Icelandair Drinks
The drinks trolley comes round the isle just once - so grab all you want for the flight at this point. The cabin crew actually warn you they won't be coming back, and they will ignore cabin call button presses, so its impossible to get a refil later in the flight.

Soft drinks are free. Beer and wine (including sparkling) costs 200ISK, €3, or £2, while spirits are 300ISK (€4, £3) and Sparkling Wine 500ISK (€6, £4). With normal rates of exchange its marginally cheaper to pay in ISK. All wine in economy comes in 187ml bottles, the only choice is white, red, or sparkling. A new economy measure is that the free packet of pretzels with each drink is no longer handed out - they are €1 a packet.
Brennvin Schnapps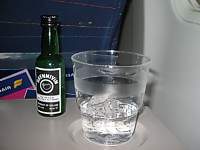 Original Icelandic Schnapps
The Icelandic Schnapps should best be drunk neat in and large quantity. It is a great way to get used to the Icelandic drinking culture.
A few drinkers choose to water down their Schnapps with ice - this is not recommended for either style or quality.
40%
Gin and Tonic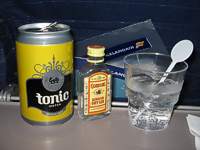 Unusual Icelandic Tonic
The Gordon's Gin is fine, and a lovely smooth Gin, that while not the best in the world, does the job effectively.
The Egils tonic water is however fantastic... a definitley good Icelandic perk.
12%
Croft Port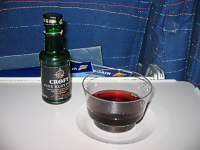 Fine Ruby Port
An unusual choice this, you will get some some head scratching if you ask for this one.
The Croft Port is bottled after two years in large oak vats and, it is in the bottle that the long, slow, ageing process transforms the young wine into a magnificent complex Vintage Port.
Opaque with a purple or deep red edge. Compact, intense, blackcurrant and cherry nose. Firm, plump with good fruit flavours and tannic structure.
14%
Drostdy Hof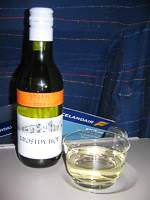 South African delight
From the drostdy wines stable in South Africa, this is a pretty good choice.
The grapes for this wine grow in the cool coastal areas, ideal for the cultivation of this variety. The grapes were allowed to fully develop their fruit. The Stellenbosch grapes provided the tropical fruit and Durbanville the typical grassiness. On the nose the wine has attractive gooseberry aromas with grassy nuances. On the palate it is easy drinking, well-balanced with exotic fruit flavours.
12%
Seigneurs de Bergerac White Wine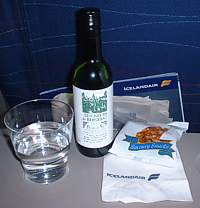 Blandly drinkable
Not the best wine in the world, the Seigneurs de Bergerac is a rather annonymous white from France.
The best that can be said is that at least its cheaper than on the ground.
12%
Gato Negro Red Wine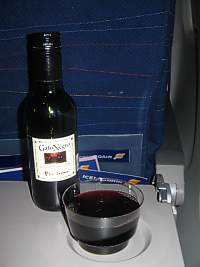 The wine with the cat
This Cabernet Sauvignon comes from San Pedro, and does the job. It is OK, with sturdy berries and fine tanin, but is nothing to write home about.
Do not spill this down your shirt, or you'll never get it out.
12%
Piper Heidsieck Sparkling Wine Brut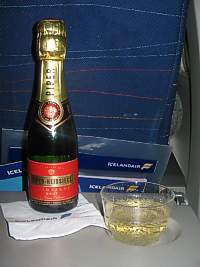 The real deal
The Piper Heidsieck is a really good Sparkling Wine. It is pricey on the ground... so you might as well get the benefits of paying a fortune for your ticket, and enjoy this proper French stuff from Reimes. The Piper-Heidsieck is also available free in business, or for €5 in economy, if you want to fork out for it.
If you're feeling bored, take a look at the cork - its a screw top with a strange plastic moulding made to look like a champers cork.
12%
Sparkling Jacobs Creek Wine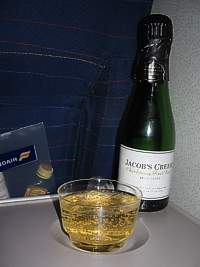 Great Australian Shampoo
The Jacobs Creek sparkling is a frequently disregarded sparkling Australian Chardonnay Pinot Noir. And yet it is lovely and crisp, with lots of flavour.
For the price - just €2 - this is a bargain.
12%
Sparkling Veure Wine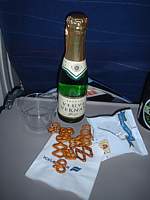 Great stuff
One thing Icelandair can do right is its Sparkling wine. This is French Veure du Vernay with a light delicate flavour and very few bubbles - which on a plane is probably a good thing. Highly recomended.
Have it with chicken, and you'll never live to regret it. Not bad for toasting the Northern Lights.
11.5%
Beer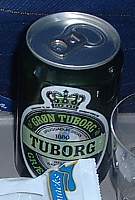 A good Scandinavian import
Beer comes in just one variety too - Gron Tuborg. It comes a long way to get on Icelandair's flights, but its worth it. All the flavour of Stella, but with less alcohol.
In a 275ml tin. 4%.