British Airways Business Class Lounges
NEWS: British Airways is steadily closing lounges at many European destinations, and using the standard contact lounge at these locations, particularly in Germany.Airports without a BA lounge now include the previously excellent BA Dusseldorf Lounge (the Hugo Junkers Lounge is used instead), BA Cologne lounge, BA Frankfurt lounge (the Japan Airlines Sakura or the Cathay lounges are however good), and BA Hamburg lounge (use the Hamburg Airport Plaza lounge), BA Copenhagen lounge (try the CPH Apartment lounge), BA Istanbul lounge (try the very busy Prime Class lounge), BA Vienna lounge (the Jet lounge is now used) and BA Oslo Lounge (the airport OSL is an OK alternative).
British Airways Business Class and First lounges are some of the best of any airline - at least for atmosphere. Get into one, and you won't want to leave - indeed the staff sometimes report that people miss their flights in the cosy world that is a BA Terraces or Galleries Lounge.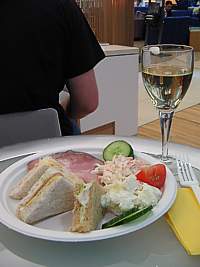 BA Terraces sandwiches


They are similar to the lobby of a good hotel, with a plentiful supply of drinks (and naturally with a free bar: there are no bar tenders or vouchers needed in a BA lounge), although food can sometimes be a bit lacking), different areas to sit in (quiet and working areas, squashy armchairs and dining tables) great bathrooms, free magazines, and normally with working areas that have computers and internet access.

To access the lounges, you need a Business Class (Club Europe or Club World) ticket, or with Silver or Gold British Airways Executive Club Cards, and their equivalent on oneworld. For domestic lounges you are admitted with a fully flexible domestic ticket. Oddly, you can also buy access to the QantasClub, which is the only way of buying access, without buying a premium cabin ticket.

At three lounges there is a Spa. A delight to enjoy, you can get a 10 minute circulation therapy, a shiatswe massage, a steam and shower suites, and a "face the world" colour bar. They are open to people travelling First, club world and BA Premiers and Golds. Other oneworld emeralds, silvers, and people travelling in club Europe are not entitled to a treatment, however on a Silver card you can normally get access to the showers.

BA have some different themes for their Lounge products:

Galleries Lounges These are the new lounges, with an uprated bar, and trendier seating. These feature a long thin bar with a curved end, over which is some fancy sparkling artwork.

Terraces Lounges These are the old outstation product, and try and resemble a good sitting room mixed with a pleasanty middle class garden in Surrey. There are different areas with sofas to lounge around on, the classic blue tiled curvey bar with a trough for wine and bar stools. And initially most perplexingly, wooden garden chairs on stone floors around fountains. Incongruous, and yet this idea of the outside meeting inside is very calming and works well. Terraces Lounges are open to Club, Oneworld emerald and sapphire passengers, and Qantas club members.

Lounge Pavilions These are the giant lounges at BA's main hubs. A more businesslike lounge, there will be plenty of desks and generally internet access. The World Wine Bar in these lounges is vast, with a dozen or so to try. There may also be a Library and Quiet Area (at LHR and JFK only), plus a free travel spa (longhaul at JFK only). These are slowly being closed.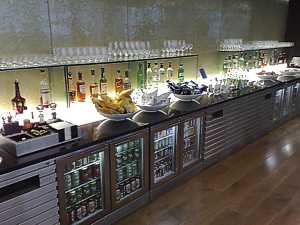 LHR Terminal 5 First lounge, the spirit bar

Executive Club These are the old lounges, and are rapidly being replaced. They are rather old and tired, and now little remains of these, although you may still see some signs for these at old outstations.
First. These are the top quality lounges, with vastly better spirits, and often food that is better than the snacks in the Terraces Lounges. Think deep leather armchairs, a full service bar, a canapé service between 1700 and 1900, and bottles of Sparkling Wine. You get the lovely perk of pre-flight dining with waiter service, from LHR (from 8pm), JFK, Newark, Philadelphia, Washington, Toronto, Chicago, and Boston. The First lounges are open to people travelling first class, Golds, and Oneworld emerald passengers. Oneworld emeralds are allowed one guest.
Concorde Room. Travelling in First? Then at LHR Terminal 5 the Concorde Room awaits. Definitely the elite, the Concorde Room and First lounge have the same snack menu, but booze is slightly better in The Room. The big difference is the pre-flight dining, and it always seems more peaceful. The First lounge can sometimes really get very busy (although when you are at this sort of elite level, another passenger is hassle indeed).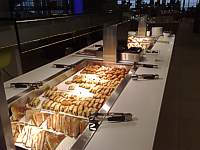 LHR Terminal 5 South Galleries, breakfast

Arrivals Lounges. At London Heathrow, Gatwick, and Johannesburg there are arrivals lounges.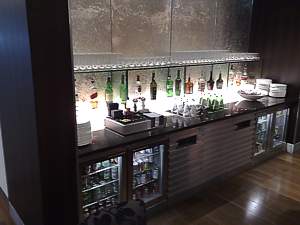 LHR Terminal 5 Galleries Club South, spirit bar

Around Europe dedicated lounges for BA can be found at Amsterdam (Open 0600-2100), Athens (0530-2030), Berlin (0600-2030), Brussels, Budapest (0730-1600), Dusseldorf (0530-2100), Frankfurt (0600-2230), Geneva (0600-2015), Hamburg (open 0530-2030, no access to Club Europe), Istanbul (0645-1900), Munich, Milan-Malpensa (0600-2000), and Milan-Linate (0600-2000). The Copenhagen and Oslo Terraces lounge have now closed.
In America there are dedicated BA lounges at Atlanta, Barbados, Boston, Chicago, Miami, New York (JFK), Philladelphia, San Francisco and Seattle.
In Africa & Asia BA have dedicated lounges at Cape Town, Dubai, Johannesburg, and Mumbai (Bombay - no opendoor access for Gold members).
British Airways have changed catering contracts for the lounges. Baxterstorey have now taken over supplying food in all UK BA lounges. This has resulted in a severe downgrading of the food available. At London in the Club (Silver) lounge, hot food is no longer available all day. There are just bacon rolls 0500 until 0930, biscuits porridge, toast, croissants and Danish until 12. Until 1500 there are basic 'tray of slops', (Pasta with basil and tomato sauce, Mustard chicken, Beef Bourguinon, Red Thai vegetable curry, and Chilli con carne). These reappear after 1800. In the First (Gold) lounge The made to order menu is far less extensive and the variety of hot food is basic 'gloop' or jacket potatoes.
British Airways First and Business Class Lounges
Lounge information from Loungeindex
Next page: British Airways Routes >>>
All images and content copyright airreview.com