Qantas Business Class Lounges
Qantas have a large network of lounges, at both international and domestic airports.

Domestically, the lounge system has recently changed, so that now there are two types of lounges. There are the normal Domestic Qantas Club lounges for which you need to pay for membership of the QantasClub, or a Gold Qantas Frequent Flyer membership card. There are also the new Domestic Business Class Lounges, which you can access on a Business Class ticket, or with a Platinum Frequent Flier member card (or oneWorld Emerald). Previously there was no access with any Business Class ticket: a strange oversight, and this is is a very welcome change, which will align the domestic Business access policy with international Business where customers are able to access the Business Lounge. However customers in Business Class will not be able to invite a guest into the Qantas Club with them. Qantas Club members can.

Change is afoot in the domestic Qantas Clubs. As a result of the change of adding a business class section, all Qantas Clubs will now start serving alcohol at 2pm, as opposed to the previous Noon opening time. This in turn is a change from the 1pm bar start in 2005, when business class passengers were finally admitted to the lounges.

Qantas 717 at Hobart

International lounges are similarly split between Business Class and First Class, and you can either get in with membership of the QantasClub, a Saphire oneWorld Frequent Flyer card, Emerald oneWorld (for the First lounges), or if you are flying business or First class.
Becoming a member of the QantasClub is a complicated business - you can join either as an individual, as a partner of someone who is a member, or as a corporate member (if your company pays), all at different prices. The price you then pay is also dependent on whether you live in Australia, and if you then pay income tax down under. Special discounts also apply for silver Frequentflyer members. Membership lasts a year (or two or four years if you buy a long sequence of them), and renewing membership then qualifies for another discount. As the table on the right shows, a dedicated quote may be required.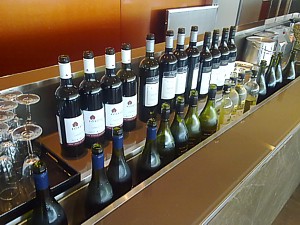 QantasClub the wine selection in Sydney

If you are a Sliver Frequentflyer member, you get one invite to the lounges for free with your welcome pack. Gold Frequentflyer members get free membership for a year.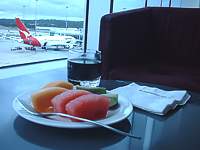 QantasClub Melbourne Domestic


Getting a guest into the lounge used to involve complicated Guest Membership passes, of which a changing number were allocated according to your membership level. Now however there is a limit of one guest per member per visit in international QantasClub lounges, joint Qantas/British Airways, and partner airline lounges. If you are a Platinum Frequentflyer member you can bring in two guests into domestic lounges, even if they are not travelling.

Jetstar flights are a weird one. If you are on a Qantas codeshare you always get in if you would have got in on a normal Qantas flight. If you are on a pure Jetstar booking, you can also get access to the lounges if you are a member of the QantasClub, or Gold or Silver with Qantas Frequent Flyer. Gold with British Airways also lets you in, and is an unadvertised benefit, but this, and other frequent flyer tiers, can give a lot of problems getting access. The rules aren't published on any website, but it is on the clue-cards that the lounge staff have at reception.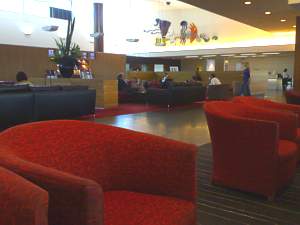 QantasClub Sydney T3, central area

Being a member of the QantasClub is also a great way to get into the British Airways lounges (Terraces and Executive Club lounges), American Airlines (Admirals Club) lounges and US Airways (Club) lounges. You will automatically get in even if you are travelling economy. As BA do not sell access, this is the only way of getting in by paying up front. You can not, however, get into the Oneworld lounges on other Oneworld partner flights unless the flight is a Qantas codeshare (for Cathay Pacific, Finnair, Qantas and LanChile).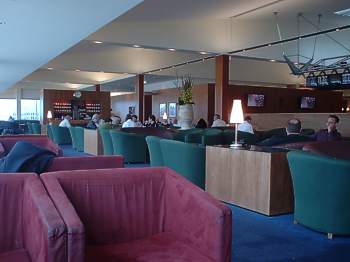 QantasClub Melbourne Domestic

Outside of Australia, Qantas mainly use partner lounges. In London its the British Airways Terraces lounge (Terminal 3), while Frankfurt has the Delta Airlines Crown Room Club (by gate D8).
There is a dedicated QantasClub lounge in Bangkok (Terminal 2, near Gates 51 - 56, open 1300 to 2400), a shared Qantas and British Airways lounge in Singapore (Terminal 1), and a brand new Qantas Club at Hong Kong (Level 7) while Tokyo uses the Japan Airlines Sakura Lounge (by gate 61).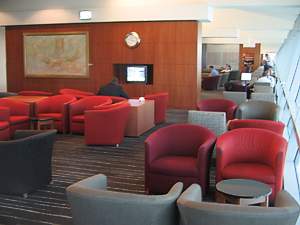 QantasClub Sydney T3 Domestic, the quiet area

Honolulu amazingly has its own dedicated QantasClub (Airside, EWA Concourse, above Gate 26 open 2100 to 0130), while in New York there is the very good British Airways Terraces lounge (above Departures).
In Los Angeles Qantas operates from two terminals: Terminal 4 and Tom Bradley International Terminal. If you depart from Terminal 4 then there is a joint Qantas Club and Admiral's Club there which will accept Qantas Passengers (and, indeed, they setup a Qantas desk in the lounge when there's an imminent QF departure from T4). At Tom Bradley International (TBIT) there is no Qantas Club but a combined oneworld lounge shared by Qantas, BA and Cathay Pacific (5th Floor), and access here can be trickier without the right oneworld status. Conversely there is free alcohol and Sparkling Wine in TBIT, but in the Admiral's Club in Terminal 4 at LAX collect some vouchers at the desk if you plan to have a drink. You can go airside between the 2 terminals, so you can make up your mind, but they tend to get sniffy if you want to access both lounges. There is also a pay for access lounge landside at TBIT, called the ReLAX lounge, or you can pay for acess into the Admirals Club at US$50.
Nadi is an odd one. The Tabua Club lounge at Nadi used to be a joint Air Fiji Tabua Club & Qantas Club lounge, but Qantas pulled out of this arrangement, so you need to get a complimentary invitation at check in if you are in business, and the usual Qantas Club cards or bronze invitations can't be used on the Fiji codeshare, even if it has a Qantas code.
In Australia there are dedicated International QantasClub lounges at Adelaide (Departures Level, near Gate 2), Brisbane (Level 4), Cairns (Level 1, right of Security), Melbourne (Level 1), Perth (Gate 2), and Sydney (Pier B).
Qantas Lounges
Lounge information from Loungeindex

Qantas outstation lounge locations
At outstations where Qantas does not have it's own lounge, it uses other airlines lounges or third party lounges.

Loungeindex has more lounge information.


Next page: Qantas Routes >>>
All images and content copyright airreview.com