The history of Virgin Atlantic starts, oddly, with the Falklands War in 1982. At the time Laker Airways flew over the Atlantic with "Laker's Skytrain", and Lakers' former chief pilot put plans together for a regular service from the UK to the islands, however further analysis showed the scheme was unviable commercially. Instead a small team tried to get a licence in 1983 to fly from Gatwick to JFK, but it was blocked by BA and British Caledonian.

Airbus A340 Virgin Atlantic at London Heathrow
Under the name British Atlantic Airways, another route to Newark was considered, but it was only after this team met Richard Branson at a party the airline was named Virgin Atlantic, and in 1984, the airline finally launched, starting from Gatwick to Newark using a leased Boeing 747-200 - ironically from an Argentinan Airline - taking over the small market share of Freddie Laker's "Skytrain" operation, which by then had failed and lapsed into bankrupcy.
The airline rapidly grew, and by 1986 the airline had two Boeing 747s and started routes to JFK, Miami, Tokyo and LA.
Virgin has always been a competitor and rival of British Airways. In January 1991 the UK Civil Aviation Authority opened the door for Virgin to operate from Heathrow and services were started from July 1991.

Virgin Atlantic 747-200 at London Heathrow
This was one of the major causes of the famous BA "dirty tricks" campaign against Virgin. In this, from 1992 BA's PA director David Burnside published an article in BA News which argued that Branson protestations against British Airways were merely for publicity. Branson sued British Airways for libel. BA settled out of court when its lawyers unearthed evidence of the extraordinary lengths the company went to "kill off" Virgin.
The airline had its first major crash in 1997, when in November after numerous attempts to shake the jammed main landing gear of Airbus A340-300 G-VSKY failed, the aircraft made an emergency landing at London Heathrow Airport . The aircraft and the runway were damaged as the landing gear collapsed. The aircraft was evacuated safely causing only minor injuries.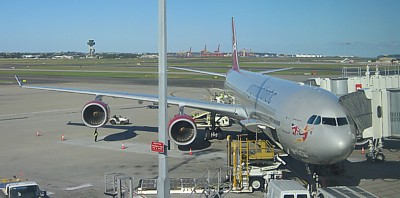 Airbus A340 Virgin Atlantic A340 at Sydney, Australia
In December 1999 49% of Virgin Atlantic was sold to Singapore Airlines for 600 million pounds: a link up that years later gave great reciprical perks to members of each other airline's frequent flyer scheme.
By 2003 Virgin was eyeing up Australia, following the collapse of Ansett, and these plans turned into Virgin Blue. Meanwhile in early 2006 Virgin Blue announced its intention to operate up to 7 flights a week to the US using Los Angeles International Airport, and by 2008 these plans had turned into V-Australia. Both of these offshoots have now been renamed Virgin Australia.