Emirates Airline Business Class Lounges
NEWS: Emirates has opened a new Business and First Class lounge at San Francisco international airport. The lounge is a joint Business and First lounge, and takes all the elements of the standard Dubai lounge, including the large dining area and excellent bar. However Emirates have recently changed the lounge access rules. Now economy class passengers with a Gold Skywards card can no longer bring in a guest.
Read the full story... MORE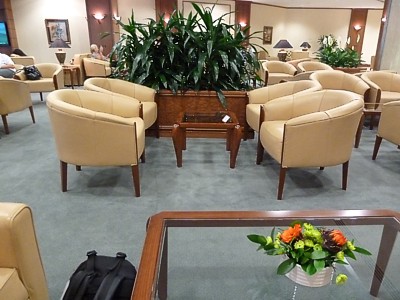 The Emirates Lounge comfortable, if beige
Emirates Business and First class lounges are justly famous: both for the ornate gold decoration, and for the way they really try hard to pack customers in. This is less of a problem that it once was, now that Silver cardholders are restricted to a very poor lounge in Dubai, and Gold Skywards members can no longer bring in a guest.
One good thing about The Emirates Lounge is that they are very consistent: every lounge has not only identical facilities, but even the food is the same. This is great in one way: even half way around the world you can be sure of Verve-Cliquot Sparkling Wine, a prawn salad, and big squashy leather armchairs. This can also be a bad thing: the beer, wine, and decor do not reflect the location where you are. You pays your money, and takes your choice, although the choice here is pretty good. The lounges are generally pretty much top-notch in terms of food, with a very good spread laid on for pre-flight dining.
At the Dubai hub there are separate lounges for First, Business Class, and for Skywards top tier members who are on economy tickets. Other than that at most outstations, there is only a combined First and Business Class lounge.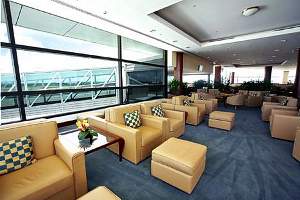 Emirates Brisbane Business Class lounge


You get access to the Emirates Lounge with a Business or First Class ticket, and in this class you can invite one guest who is departing on the same Emirates flight in economy. Otherwise, you also get access with a Gold Skywards card, but you can no longer bring in a guest. There is no way to buy access - unless you buy a Business or First Class ticket of course!

Emirates don't like using contract lounges: the airline believe that this debases the product, and as a result there are mainline lounges in many outstations, and the airline is trying hard to install lounges at as many of its locations as it can. Emirates lounge locations are at the Dubai hub, plus outstations including Auckland, Bangkok, Beijing, Birmingham, Brisbane, Frankfurt, Hamburg, Hong Kong, Mumbai, Munich, Johannesburg, New York JFK, Kuala Lumpur, London Gatwick, London Heathrow, Paris CDG, Singapore, Düsseldorf, Manchester, Melbourne, Perth, Sydney, and Zürich.
Emirates Airline Clubs
Lounge information from Loungeindex

Emirates Airline outstation lounge locations
At outstations where Emirates Airline does not have it's own lounge, it uses other airlines lounges or third party lounges.

Loungeindex has more lounge information.

Next page: Emirates Airline Routes >>>
All images and content copyright airreview.com