British Airways Experience
Ah, British Airways. Just lie back and think of the Sparkling Wine. British Airways has always had an above average reputation for its inflight service, although this isn't always totally deserved. In economy around Europe, it is still a cut above the low cost airlines, and even still has a free bar on board. Trans-Atlantic it can definitely hold its head way above any of the American carriers in all four classes. To Asia though the new Middle Eastern Airlines seem to have the edge. In Business the experience is much better, and around Europe it's hard to beat, with a solid hard product on the ground. Finally, in First, it can beat the Asian airlines, but falls down slightly against Cathay and Qantas.
British Airways inflight experience
NEWS: British Airways has now scrapped the Club Kitchen on overnight flights, and if you visit the snackbar in Business Class, instead of sandwiches, all you will get are nuts.
It is the inconsistency that sometimes damns British Airways.
One day you may get the latest plane, and a brilliant crew, and the next you'll be stuck in old First with mediocre food choices and a crew who are desperate to get back around the M25. Rarely on an airline should you need to check exactly what age of plane you're on and whether the crew will be fresh or on a mixed fleet rotation: on BA, especially in the premium classes, it becomes vital.
British Airways has introduced a check at Heathrow Terminal 5, to ensure that passengers are through security at least 15 minutes (longer for some long haul flights). Even if you could quite easily get to your plane, you will not be permitted through security unless you are there with time to spare. Also BA have changed boarding times: British Airways are now imposing a T-10 rule for boarding on all flights from LHR Terminals 3 and 5. Passengers must be on board the plane at 10 minutes before the published takeoff time, or they will be refused access to the plane. BA's stated aim is to push back the plane at 5 minutes before the published time.
Boarding varies by outstation, but generally at Heathrow there is priority boarding, whereas for economy it is just one long line. It simply isn't worth trying to skip the economy queue unless you can wave the right kind of Frequent Flyer card, in which case you'll be ushered straight ahead. Don't be shy about this: just join the business class boarding queue. However priority board is a notoriously random lottery. At some African outstations it can resemble a zoo: the only certainly is that if you have a First boarding card, you can just wave that, and you'll be rushed onboard. There is absolutely no priority boarding for families.
British Airways First class reviews - BA First experience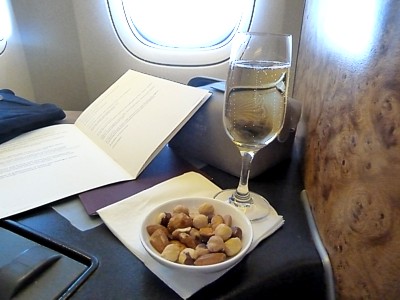 First Class British Airways First menus, nuts & Sparkling Wine

In First Class you should have at least enjoyed priority boarding, and then once onboard, you'll be escorted to your seat by a crewmember. They'll offer you water, Sparkling Wine, Orange Juice or a Buck's Fizz/Mimosa. Leaving from the UK the lovely people at HMRC won't let them offer you anything else - so don't ask.

Before takeoff you'll be offered newspapers, and then the amenity kit (known as the BAg) will normally be given out before takeoff, along with Pyjamas and slippers. Occasionally these aren't handed out for a day flight, and you'll need to ask. There may also be a round of newspapers too: if not, they are dumped at the front of the cabin for you to take one. The menu will also appear at this point, and orders are generally taken before takeoff. The crew will always tell you what the 'Catch of the Day'(the fish dish) is (from the UK only). The noise cancelling headphones are also left in the seat for you - make sure you leave them back on the plane. The fit in the neat drawer beside the seat.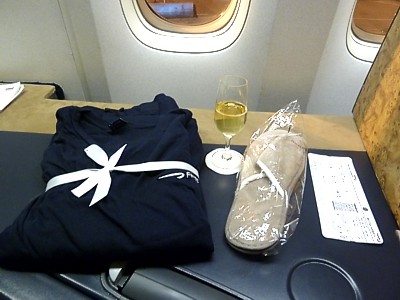 First Class British Airways First pyjamas and slippers
The first round of drinks, and a warm nut service, will start as soon as you are in the cruise. It is a bit of a BA tradition to have the Kir Royale at this point, and many do. It'll generally take about an hour for the main meal service to start, but in First BA offer "Dine When You Choose", and if you've had a particularly heavy lunch in the Concorde room this may be a better option rather than eating immediately. You can of course also use your buddy seat to dine opposite each other if two of you are travelling, and dinner is either laid out on the large dining table, or an informal service, arranged on the side table if you want to continue work (or use it for the iPad film service). Many regulars have noted that food in First on BA has gone downhill of late: some of it can be poor, but occasionally it really can surprise. This is not always a good thing. However Desert it always something special, and over and above that in Business. Desert wine also only available in First, and should be tried at length.
There are small pillows and a blanket on the seat if you just want a nap: however, there are much better ones for sleeping. The crew will of course make your bed for your - even on a day flight, and even just for a few hours - however it may be much quicker to just reach up into the overhead locker and grab your mattress cover, thick pillow and a cotton duvet.
On night flights you'll be asked if you want to wake for breakfast, about 2 hours before landing: the other option is just to grab a bacon roll and eat in the Concorde arrival lounge at Heathrow. On day flights, there is the option of Afternoon tea, which is worthwhile, if only to soak up the Sparkling Wine.
British Airways Business class reviews - Club World experience
The very first question you should ask if you are booking BA Club World is 'is this a sleeper service?' This is because on some overnight flights that leave late in the evening, BA will assume you will eat in the lounge, and will only serve a basic, quick, meal on board: indeed many people will ignore it, and go straight to sleep. Not all night flights are sleeper service though: for example from Chicago, the early flight isn't, but you'll only get a basic breakfast, whereas the late night flight is Sleeper, with not much dinner on board, but a bigger breakfast.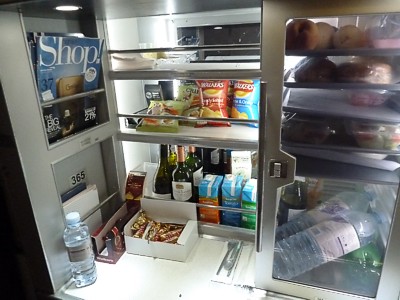 Business Class British Airways club world larder
Long Haul in Business Class on British Airways you can generally expect the staff to greet you by name, and then take your coat. When you are on board you'll sometimes be shown to your seat, although this is rarer on the 777 than on the upper deck of the 747, and offered water, Sparkling Wine, or Orange Juice. Amenity kits and menus also come around. Orders are taken for food before take-off on night flights too. Service then starts from the front of the cabin, with hot towels, then the initial drinks orders, and works its way back. It can take quite a while to get to the rear of the cabin, and those in the know at the back often head to the larder to pour themselves a drink first. There is then a rather rushed meal service: in the case of the sleeper service this can be very hurried, to let you work, sleep or watch a film. There is no attempt to make it a long elaborate dining experience - for that you need to buy a First ticket.
British Airways Club World reviews always highlight the way that if you get peckish during the flight, there is a small but well-stocked 'Club Kitchen' to raid: it's advertised as 'Raid the Larder' in a rather boarding school way. There is a small fridge with salads, pasta, cheese plates, wraps and sandwiches. There are bags of crisps, cakes, biscuits, and chocolates. There are cartons of Tesco-style juice, and bottles of water. There is normally no beer, but there are two bottles of wine, a white and a red: however, if you want a better choice there is nothing to stop you from asking the crew for anything on the wine list.
British Airways Economy class reviews long haul - World Traveller experience
NEWS: British Airways will now not let you book a seat even if you are a Gold or Silver member, if you are on a handbaggage only fare.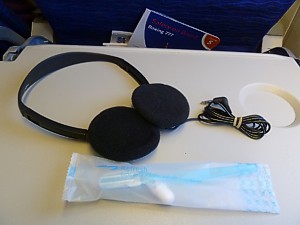 Economy BA economy amenity kit & headphones

Reviews and opinions are generally favourable about British Airways airlines, particularly for the premium classes. Where it all tends to fall down is in economy: ask some passengers "What is British Airways like in economy?" and they may not be all that positive.

After the undignified scramble to get on board, you'll be pretty much left to your own devices until the meal service starts. There are four trolleys that start at the front and work their way back: two of these are generally dedicated to WTP, and when they've finished there, they'll assist with the main economy cabin. On longer flights you'll normally get a drink service (free, of course!) first, and then the meal service, with wine also on the food cart. More experienced travellers get a G&T and a wine with the first trollery, as it takes so long for the food to come around.

Lights click on neatly two hours before landing, and then again there is a breakfast service (or rather, normally a muffin and a yoghurt) from the front, followed by tea and coffee.
British Airways Business class reviews - Club Europe experience
British Airways divide their flights into 'bands' of service, and what you get on board is determined by these bands. The good news is that even on the shortest hop to Brussels you'll still get fed and a free bar: however the service is much more extensive on longer European flights in Business.

British Airways Club Europe reviews have gone downhill of late, if only because the hot towels service has been axed. However once the seatbelt signs have gone off, you'll get a bar service. Normally on most A320s this comes straight from the galley, but on Boeing 767s on Club where there are more than 6 rows of Business, there will be a trolley. On Band 3 and above you'll get two hot options (or in summer one hot option and a salad. Indeed, on band 4 to Athens and Moscow, there is even a small card printed menu. You'll get the offer of some warmed bread in a basket: this will come around again, as will the wine service (you have to ask for Sparkling Wine, but it is free). There is tea and coffee by hand, and a second offer of tea & coffee, and finally, what is now called in flight retail, but which everyone still knows as Duty Free (even if, in the new Europe, it isn't).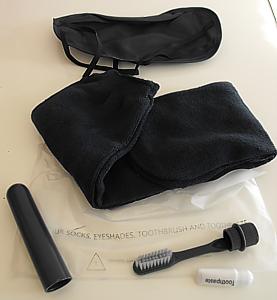 Economy Amenity kit: socks, eyeshade, toothbrush

British Airways Longhaul amenity kit
British Airways provides four different Amenity kits for the four different classes on board, These are normally sitting on your seat when you board the aircraft, although you may have to wait for them to be passed around in premium classes.

The colour of the eyeshades and socks has recently changed from light blue to dark blue.
World Traveller (Economy)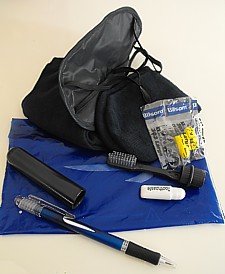 World Traveller Plus Amenity kit, with extra pen


In economy long haul there are two versions of the amenity kit. On short or day flights, there is a small packet with a toothbrush.

Other flights get a light, clear coloured pack containing eyeshades and a pair of socks, plus a strange round plastic container that forms the handle of a toothbrush and a miniture tube of toothpaste with just enough toothpaste for two brushes.
World Traveller Plus (Premium Economy)
British Airways make much of the fact that in Premium Economy you'll get an "enhanced" Amenity Kit. And to be fair you do - you get a pen and earplus. And it comes in a different coloured packet - dark blue, so the crew can tell the difference.

The World Traveller Plus amenity kit contains the same eyeshades and pair of socks as the usual economy one, plus a strange round plastic container that forms the handle of a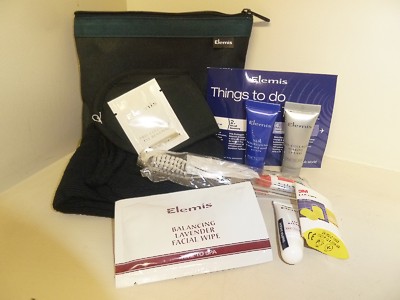 Club World British Airways Business Class Amenity Kit

toothbrush and a miniture tube of toothpaste with just enough toothpaste for two brushes. It's the early plus that make the difference: they are OK, and the pen is, well, after all, an OK ish pen with a BA swish up the side. The World Traveller Plus amenity kits are normally handed out the special premium headsets - make sure you get one, and not the usual economy ones.
British Airways Club World Amenity Kit
There has been a big change in Business.

The new British Airways Club World Amenity Kit is now provided by Elemis, instead of Moulton Brown. The bag isn't quite as good, but the contents are marginally better. The BA Business amenity kit washbag is now a small blue creation, with eyeshades, socks, a toothbrush and toothpaste, earplugs, plus Elemis skincare products such as lip salve, moisturiser, and bodycream, plus a facial wipe and hand wipe.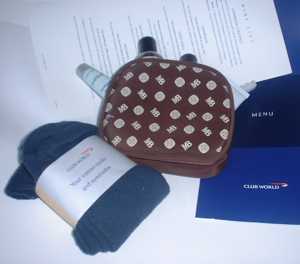 There is a much older small Moulton Brown bag which is still occasionally handed out - it contains your eyeshades, and half a dozen MB washbag products.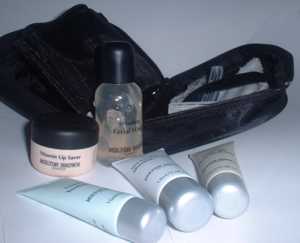 There are male and female bags.
You may still be lucky enough to get an old style (black) MB bag, which has a couple of extras - lip salve, and face protector, plus a razor, flannel - and a voucher for more MB goodies when you get back!
British Airways First Class Amenity Kit
British Airways new First Class Amenity Kit is justy famous, both for its look, and its bulk.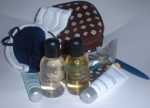 The Gladstone style 'BAg' was created by British designer, Anya Hindmarch, is trimmed in cream and it is stamped with the original 'To Fly, To Serve' coat of arms which featured on British Airways' tailfins until 1997. It looks great, but it is pretty bulky: it isn't the usual squashy bag, and you'll need quite a lot of room in your hand luggage to fit it in.
The bag itself comes in a different colour each year, starting with British Airway's traditional navy blue.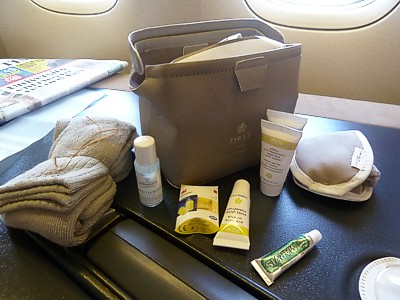 British Airways First Class Amenity Kit in the famous BAg
The contents come from family-run firm D.R Harris, and of course include a Harris logoed toothbrush and Marvis mint toothpaste. There are three REN moisturising creams, including grapefruit hand & body cream, vita-mineral radiant day cream, and their signature 'cucumber and roses' formula, plus REN active 7 radiant eye gel, REN lip Balm, and a Dr Harris mouthwash. Also in your BAg are earplugs, socks and eyeshades.
The amenity kit (known as the BAg) will normally be given out before takeoff, but quite regularly the crew forget. If they do, make sure you tell them; an exact number of BAgs are loaded for each flight, and if you miss out at takeoff, chances are you won't be able to get one later.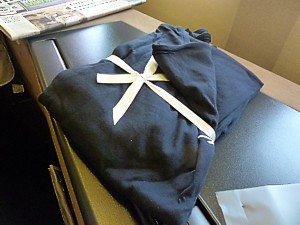 British Airways First Class Pyjamas done up with a bow
If you are travelling in First you should also get a First sleeper suit. These come in a fetching shade of blue, and are pretty comfortable on a long flight. It is designed to be pretty baggy and loose. You'll also get a pair of slippers.
British Airways Baggage allowance
NEWS: British Airways Hand baggage allowance for the 'personal item' has decreased from 45x36x20 to 40x30x15. However the total hand baggage weight has increased to 23kg. Also passengers carry on bags will receive a yellow tag for handbag/laptop sized bags, except in First and Club World.
British Airways has a very generous carry on baggage allowance for each flight, and a fairly standard check-in baggage limit, however that didn't stop a lot of screaming a couple of years ago when BA moved from a total weight concept, to a single allowance system based on the number of bags that can be checked in. This was at odds with most other airlines, that have started moving to a total weight system. A more recent change is that passengers in full fare Y economy class can now check in two bags, however the strange restriction on just one main hand luggage bag remains, although it is losely enforced.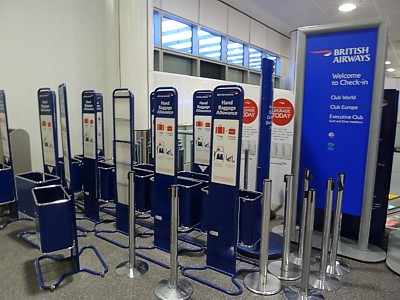 Baggage allowance British Airways hand bag weigh in machines at LGW
Cabin Bags: British Airways Hand baggage allowance is highly unusual, and this may cause you problems with a connection with BA and annother carrier. British Airways is however generous in terms of weight - your carry-on bag on BA can weigh up to 23kg - and in terms of size. The maximum size is 56cm x 45cm x 25cm (22in x 18in x 10in), including the handle, pockets and wheels. This is much larger than most other carriers, where the oneworld standard is 56x36x23 (or Qantas domestic at 48x34x23). As you might expect this means that if you connect to another airline with a 'giant' BA bag, you may have to check it in further down the track. Another trap for the unwary is that all passengers in all classes can only take one bag - even in business or even first class, where you can only take one main bag into the cabin British Airways hand baggage policy is unusual, in that in Business on Qantas or Iberia, among others, you an take two. However, you are permitted to take an extra laptop bag in all classes, up to the dimensions 45cm x 36cm x 20cm (18in x 14in x 8in), including the handle and pockets. Rules on contents (such as liquids) apply.
British Airways check in baggage: On all routes except to Brazil, Ghana, Kenya, Nigeria and connecting journeys between India and USA/Bermuda/Canada that go via the UK british airways baggage allowance for Economy class is one bag to 23kg for free, World Traveller Plus (British Airways Premium Economy) and Full fare economy (Y class) can check in two bags (with a weight per bag of 23kg). Club Europe has two bags to 32kg, while Club Europe and First class can check in three bags up to 32kg. The dimensions of the bag should be no larger than 90cm x 75cm x 43cm (35.5 x 29.5 x 16 inches)
British Airways Gold and Silver Executive Club members, can check in 2 bags in all cabins, on all routes, unless the cabin allowance is greater, plus they are exempt from the heavy bag charge for bags weighing between 23kg and 32kg. These bag limits are also extended to American Airlines Executive Platinum and Platinum members and Iberia Plus Platinum and Plus Gold members, and are generally also (but unofficially) offered to oneworld members at the equivalent tiers, however this can't be relied on.
British Airways excess baggage charges can be steep, and are even more expensive at the airport. In economy, be prepared to pay £35 a bag around Europe, and £65 for the rest of the world for the first bag, and £140 for each extra one. There is the same £140 charge in Club World.
As always, these rules can change, however British Airways' website has up to date details of exactly what you can take onto a flight, and what the check in limits are.
Next page: British Airways frequent flyer loyalty scheme >>>
All images and content copyright airreview.com