Qantas IFE
Qantas Inflight Entertainment - on Q
What Qantas call the Total Entertainment Inflight System is, rather in the Australian way, shortened to just Q. Whether you get a seatback TV on Qantas depends to a large extent on the type of plane you are on. There are two variants, the overhead one screen Short-Haul system, and the international Long-Haul system.
Short-Haul Qantas Inflight Entertainment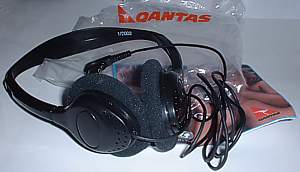 Qantas Headsets
Headsets are not provided on the planes - uniquely on Qantas they can be picked up in the bins at the departure gate. Virtually identical to BA headphones they are the headband style with twin 3.5mm mini-jacks, and produce a nice punchy sound with plenty of treble.
Short-Haul in Australian terms can mean a flight of several hours duration, and so Qantas provide short films and comedies on the overhead TVs on 737s and 767s. These are often so appallingly bad that looking out of the window or buying a beer is the only release. It showcases home grown Australian productions - and that means productions where the budgets are minimal, sets appalling, and acting straight out of kindergarden. All is not lost however - the radio channels pick up radio straight from the ground - and there's normally either triple J or ABC to listen to. On 737 & 767 flights above 3 hours (namely flights to Perth and Darwin) a full film is shown, with a short comedy before hand.
On domestic Qantas flights operated by a 747 (just Perth to Melbourne & Sydney) there is a full seatback video, with 6 films. These should be taken above the 737s services, which just have a mainscreen film.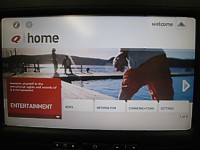 Qantas A380 IFE welcome screen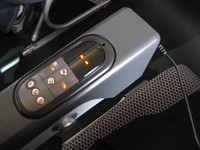 Qantas A330-200 IFE controller

On a few long domestics routes, the trans-tasman 737 and the new Airbus A330-200 aircraft are used. These have seatback TVs in all classes, with full AVOD and touchscreen TV screens. They use the new Panasonic eX2 system there are over five hundred entertainment options including movies, television programs, a CD library, games, a dedicated children's section, plus Qantas Lonely Planet Guides as seen on the A380. However there are only 10 films per flight, and these films change on the outward and return journeys. One perk is that these films start while you are still on the ground, at at the gate. You start and stop video by touching the screen, or using an armrest controller. Sound is in Stereo, on headphones with twin 3.5mm jacks. Each seat offers a USB port for passengers to charge their electrical devices, however this may be an issue for some people. The socket is just a USB socket: great for charging iPhones, but some computers will not take power through the USB socket. Also, you can't load memory sticks with pictures or music into the system.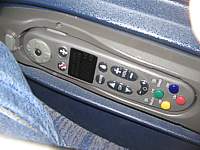 747 at seat video controller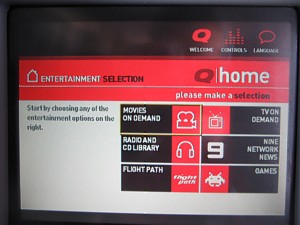 Qantas AVOD On demand video



Great fun can be had from the Qantas monthly documentary on their latest innovations. It's so funny you'll be glued to your seat - and not intentionally - but sometimes has "fleetingly" interesting fleet or loyalty card news.

Note that Qantaslink flights operated by Impulse have no inflight entertainment.
Qantas Long-Haul inflight entertainment review
Qantas are replacing their inflight entertainment system with an AVOD Video on Demand system. It is present on all A380s and some A330s, however as yet not all planes have this. However, all planes do have a seatback entertainment system.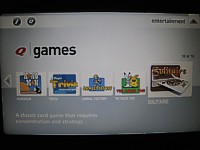 Qantas A380 inflight games
The older long-haul 747s have a 12 channel video system which you can select at your seat. The films are on a 2 and a half hour cycle. Move up then down a channel to see the timing. Each channel has two soundtracks, with the English version on A and the other language on B.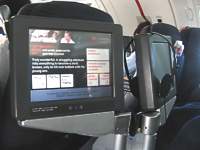 Business 747 flip out video screen
On aircraft with an AVOD system, the IFE is switched on while the plane is on the ground: this is a boon when you have to wait half an hour for the plane to finish loading, and then another half an hour before it reaches the cruise. Indeed, on night flights, you can sometimes get through a film and eat, before getting a good six hours sleep. On some international flights Channel 9 News is shown just after takeoff on flights with a loop system, while on those with AVOD, its available to watch on the boardcast section.
Films shown long-haul to the UK and other international locations can be right mixture, almost dreamed up on the spur of the moment. Normally theres only one film which is doing the rounds of the cinemas currently.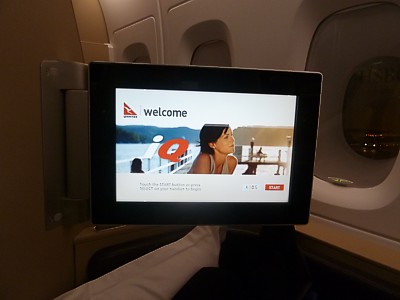 A380 First Class the large TV screen
To see what films are on, you can look up the synopsis on the AVOD system, which will also show you the trailers, however this can be slow,and it is much faster to look up the films in the Qantas inflight magazine. The listing sections showing what you are likely to get is right at the back of the inflight magazine, in the Movie Marathon section.
There's just a page of text showing from and to locations, and the names of the films. You have to marry them up to the films reviewed in the preceding pages.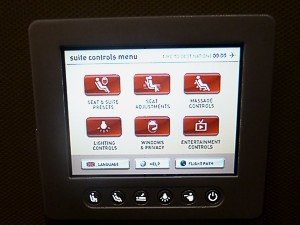 A380 First Class the small screen controller
In First Class on the A380, and on newer 747s, the IFE is a really good widescreen 17 inch display, that rotates on motors from the wall. There is a separate small screen that either shows the moving map, the seat controls, or the IFE controls. You can also control the IFE through the handset in the armrest, or by the touchscreen - this is slow, and so most people gravitate back to the armrest control. Headphones are proper noise cancelling ones, and are in the semi-circular drawer beside the seat.
Qantas laptop power outlets are standard up front, but become harder to come by in the cheap seats at the back: much depends on the aircraft and whether you are in Premium Economy (where there is a socket between the seats (but which does not take UK plugs)). Also, Qantas's inflight power system is rated very conservatively. It will shut down if your laptop draws more power when it boots up than the socket can supply. The trick here is to boot it up, and then plug it in, or to leave it to recharge when it is powered down.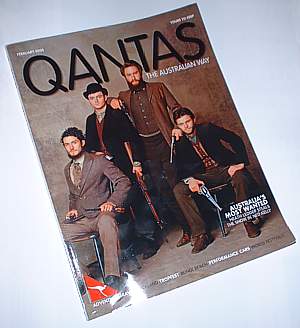 Qantas The Australian Way
Qantas Inflight Magazine - The Australian Way
The Australian Way is produced in Sydney, and is an average to classy monthly inflight magazine with an arty streak. It has one article on somewhere to visit on the Qantas network, which normally looks at the bars and nightlife rather than the culture of a location.

There is a long motoring section, and the HipZone - another section on the places to party like a wild thing when you finally get there. Leading the magazine is the Arts section, with pages of short films, galleries, and festivals. While a top quality magazine, you can't help feeling that its produced by a one man band that wants to look at pretty pictures and party, hard. Fine, if you're part of the beautiful crowd.

The listing of what films you are likely to get is shown right at the back of the inflight magazine, in the Movie Marathon section. There's just a page of text showing from and to locations, and the names of the films. You have to marry them up to the films reviewed in the preceding pages. <

Next page: Qantas inflight experience >>>
All images and content copyright airreview.com