KLM Drinks
A major shock with KLM is that the airline has gone "dry" around Europe. KLM doesn't serve alcoholic beverages during any European flights. However tea, coffee and water are still offered free.

Long-haul in Business you will still be offered a welcome on board drink, which is either South African Sparkling Wine or fresh orange juice. On the remainder of flight full bar service: choice of 2 red wines, 3 white wines, Piper Heidsick Champagne, soft drinks, spirits, and liquers.

Economy long-haul wine, beer and spirits are all free. Wine in economy comes in 187ml bottles.
Business Class Champagne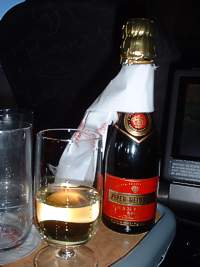 Champagne Piper-Heidsieck Brut
Great Champagne
A really good champagne, its pricey on the ground... so you might as well get the benefits of paying a fortune for your ticket, and enjoy this proper French stuff from Reimes.

The Piper-Heidsieck is only available long-haul.

12%
White Wine
King Estate Pinot Gris 2001
From Oregon, US
Pretty sweet, with the aroma of apricots and peaches. Very good.
11.5%
Red Wine
Cabernet Sauvignon 2000, 'Max Reserva'.
From Familia Rutini, Agentina
A very deep red colour, its almost off-putting in the glass. Its got a lot of body, but little flavour. Lingers on the palate.
13%
LBV Port
Vintage Port noval 1997
An unusual choice this, you will get some some head scratching if you ask for this one.

The LBV is bottled after two years in large oak vats and, it is in the bottle that the long, slow, ageing process transforms the young wine into a magnificent complex Vintage Port.

Opaque with a purple or deep red edge. Compact, intense, blackcurrant and cherry nose. Firm, plump with good fruit flavours and tannic structure.

14%
Gin & Tonic
Horrible Dutch gin
The drinks policy on KLM is firmly adapted to the Dutch tastes - on the rare occasions when you can get on a plane that isn't dry. KLM carry Damrak Gin, which is the Dutch version. Admittedly the Dutch invented Gin in the 15th century, however Bombay Sapphire or Tanqueray - or even Gordon's for that matter - is an improvement. Alas, not for KLM, and the airline continues to serve Damrak.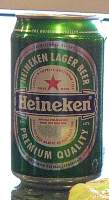 Beer
Heiniken Beer comes in just one variety, the famous Dutch export Heineken. Its the usual tame stuff you get on the ground, but in a strange tall tin.
4%.