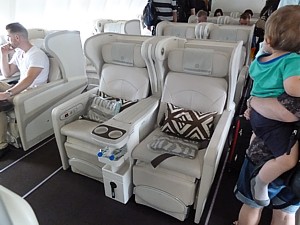 Fiji Airways Business Class A330 Cabin
NEWS: The recent major delays to Fiji Airways caused by the loss of one of it's three A330s from the schedules for several months due to a heavy landing in Sydney has encouraged Fiji Airways to announce plans to buy another new Airbus A330-300 and two more Boeing 737-800s, which will increase its fleet size by 25%, as part of a five-year strategic plan
Fiji Airways Cabin Classes
At all seats in all cabins on the A330 you will get a seatback TV on Fiji Airways:
Fiji Airways's inflight entertainment and seatback TV
. On the Fiji Airways 737 in both classes there are drop down TVs in the ceiling.
Fiji Airways International Business Class
Longhaul Fiji Airways
Business Class
comes in two variants, with a new modern seat.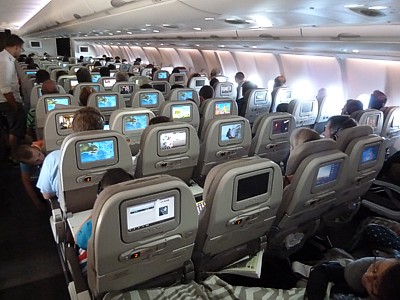 Fiji Airways A330 Cabin
On the Airbus A330 there is a large recliner - which doesn't lie flat.
While on the Boeing 737 there is a small recliner - which is like something out of the 1980s. However it does have a good flip out TV screen - without AVOD. The films are on a tape loop.
Fiji Airways Premium Economy Class
While mooted for some time, Fiji Airways have not yet introduced Premium Economy.
Fiji Airways International Economy Class
Fiji Airways
Economy Class
seats are not always that good, because longhaul is basic, but with a marginally better pitch that you'd expect.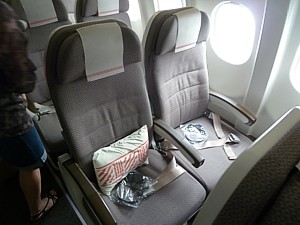 Fiji Airways A330 Economy Class
Pitch comes in at 31 inches - an inch more than most airlines, although it really doesn't feel that much better. In my Fiji Airways reviews economy class I do however commend that Fiji Airways has a decent 2-4-2 layout, and this gives a respectable width of 18 inches. Width, rather than pitch, often defines seat comfort in economy, and here Fiji are good. On the Fiji Airways 737 there is a 3-3 layout, which inevitably feels a bit tighter.
Fiji Airways Fleet
Fiji Airways Fleet consists of three longhaul A330s, and four short haul Boeing 737s.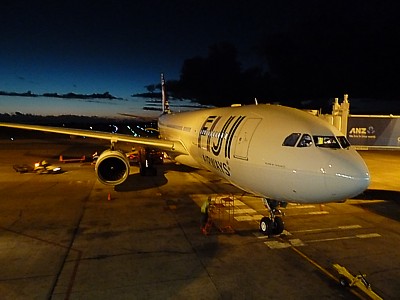 Fiji Airways Airbus A330 at Nadi
Fiji Airways Airbus A330
Fiji Airways has a small fleet of three of the classic Airbus widebodies, the A330 for shorter routes with better fuel economy. The age of the plane is great - only a few years old. Fiji Airways bought the lot all brand new.
Business Class on the Fiji Airways Airbus A330 is not too shabby at all. The Fiji A330 uses the classic Fiji Airways Business Class seat is designed by Zodiac Aerospace/Weber (the Mark 7811 no less - as used by Virgin Australia and Singapore Airlines) and it's one of their standard 'off the shelf' seats. It has inbuilt AC power and USB outlets plus a 15.4 inch LCD screen running Panasonic's eX2 content-on-demand system. However the one thing it doesn't do is lie flat.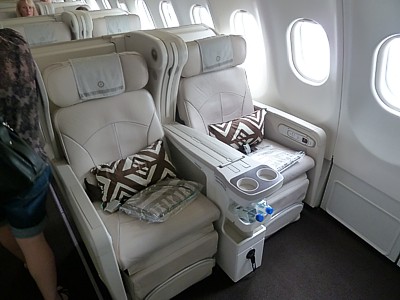 Fiji Airways A330 Business Class
On the long-haul to LAX, you may regret the desire of Fiji Airways to cram in more seats, and not have the lie-flat function. It electronically reclines but it has some major drawbacks; your feet stick into the hole on the ottoman under the seat infront, and it isn't very private at all: there is a smal privacy screen, but you are again sitting next to your companion, with a 2-2-2 layout.
Row 1 gets a bulkhead with loads of legroom - and unfortunately bassinette fittings. If you don't want to be blighted by sitting next to a couple with a crying baby, ask if there are any children onboard before asking for this seat.
Fiji Airways Economy Class on the A330 is in a 2+4+2 formation, which is ideal if you are flying as a couple, as it means the end of clambering over two people when you want to leave the window seat. Fiji Airways reviews always show that although not very notable, the extra pitch (slightly better than some other airlines) of 31 inches really does help longhaul.
The Fiji Airways economy seat has 7.5 inches of recline, but only 6 inches is from the back recline plus 1.5 inches of forward movement for the base. The seats have a 9 inch video screen, and have the remote under the TV screen, rather than clamped into the arm as it is on many planes (and, indeed to increase footspace the control unit is fixed to the underside of the seat rather than mounted on the floor).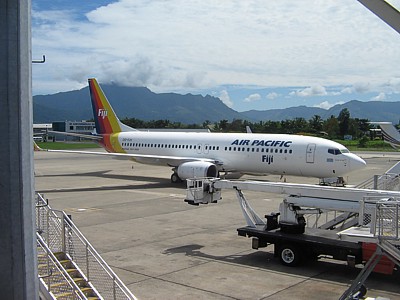 Fiji Airways Boeing 737 on the stand
On the A330s row 7 gets a bulkhead, while row 27 (row 26 in the middle) gets an emergency exit, but it is blighted by light spill from the block of four toilets ahead of this seat.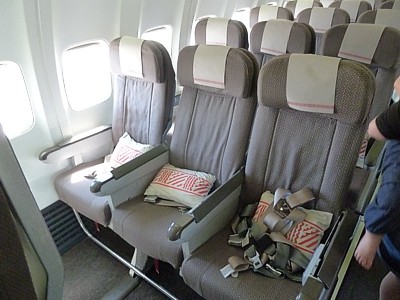 Fiji Airways 737 Cabin
Fiji Airways Boeing 737
Fiji Airways has a solid fleet of four Boeing 737s, all of which are the new Boeing 737-800 type. Although initially they were used mainly for short-haul routes, many are now finding their way onto the run to Sydney, Melbourne, Brisbane and Auckland too.
Business Class seats are in a 2+2 layout, with seats just standard recliners, in just two rows. With just 8 seats to choose from, it's seems almost luxurious that Fiji Airways have rammed an overhead locker full of IFE tape players, to give these seats a choice of ten films on a loop. It's a lot of kit to carry for just eight people, many of whom don't watch the movies anyway.
Economy is in the usual 3+3 pattern, with row 10 being the emergency exit seat, with a lot more legroom. Row 8 is missing a window.