Cathay Pacific Business Class Lounges
Cathay Pacific have a fearsome reputation in the airline world for being among the world's best. And indeed they are good, very good, but sometimes it's hard to see what all the hype is about.

Cathay Pacific are however very proud of their lounges, which are very much part of the whole experience, and as such the airline often likes to have its own lounge, even when there are other airline lounges available.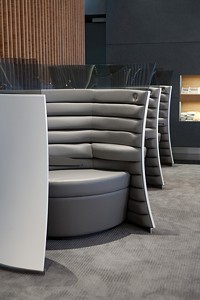 The Wing Hong Kong Cathay Solus Chair

As such it has its own lounges in London LHR (T3 airside (turn right at SAS lounge): open 0530-2200), Melbourne (T2, First floor, after Customs: open 3 hours before departure,) Bahrain (1700 - 2230 (Tue/Fri/Sun to 0120): Level 3, gate 16), Bangkok (Concourse G, level 2, 0530-1930 (to 0030 Tue/Fri/Sat) although BA lounge is better), Beijing (joint Dragonair and Cathay Pacific Lounge (Terminal 3), open 0530 - 2100), Frankfurt (Terminal 2, open 0600-1400), Kuala Lumpur (open 0700-2300), Paris CDG (Terminal 2A, open 0950-1350 (& 1900-2305 Mon, Wed, Fri, Sun)), Penang (0600-0800), Seoul (Concourse A, 4F, by gate 118: open 0630-1000, 1215-1520, 1700-2000), San Francisco (0800-1200 and 1930-2330) and Vancouver (1115-1310 & 2000-0205 (extra hour in clock change months)).

Elsewhere, airport or oneWorld lounges are used, such as in New York (British Airways First and Terraces lounge), Los Angeles (oneWorld lounge, level 5) and Toronto (The KLM Crown Lounge of all places).
Cathay Pacific Hong Kong lounges
If you fancy going on a lounge crawl, Hong Kong is the place to do it. You could - if you really have nothing better to do close to one of the world's most active cities - spend all day going around the four main Cathay Pacific lounges at Hong Kong, plus the other two oneWorld lounges at HKIA.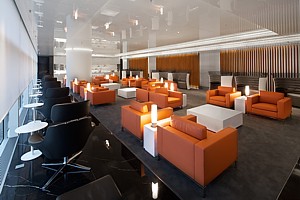 Cathay Pacific The Wing Hong Kong the new lower level
However reviews of lounges at Hong Kong show that they are all pretty much the same. The Wing and The Pier both have separate First Class sections, showers, and the same food and seating. However the Wing has First Class cabanas (bathrooms with a chaise lounge and bath) and a a "Gamezone" with plenty of electronic toys. The Cabin compliments the Wing, with different food (hot sandwiches, antipasti, and freshly squeezed juice) and a better business centre. If you only have time for one lounge, make it The Cabin. Also lacking a First Class section is the G16 lounge, which is the former Dragonair lounge, offering a Chiu Chow Express noodle cart, but the lounge atmosphere is pretty poor.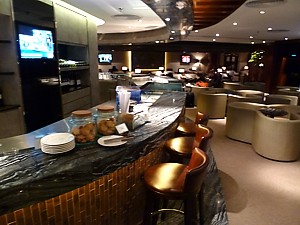 Hong Kong Stuck overnight? The Travelers Lounge bar is 24h
However, when on your lounge crawl remember that the airport is big, and that the concourse shuttle train at HKIA will only move you outwards, and it's a long walk back from the Pier to the Wing.
Alas, there are no oneworld lounges open 24 hours a day at HongKong, so you can't overnight inside the terminal itself, unless you buy admittance to The Travelers Lounge (and while you're there, pop in the missing "l" and apostrophe): at HK$420 for a six hour overnight stay (including bed, shower, and breakfast) it is pricey, but well worth it if you're stuck overnight. The bar is open 24 hours a day too.
Cathay Pacific Lounges
Lounge information from Loungeindex
Next page: Cathay Pacific Routes >>>
All images and content copyright airreview.com