NEWS: Cathay Pacific have opened a new Business and First Class lounge at San Francisco international airport. The lounge is a joint Business and First lounge, and takes all the elements of the Hong Kong Cabin lounge, but compresses them into a small room, including the noodle bar and the famous Solus Chair.
Read the full story... MORE
Cathay Pacific have a fearsome reputation in the airline world for being among the world's best. And indeed they are good, very good, but sometimes it's hard to see what all the hype is about.
Cathay Pacific are however very proud of their lounges, which are very much part of the whole experience, and as such the airline often likes to have its own lounge, even when there are other airline lounges available.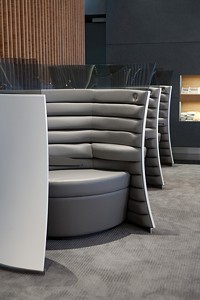 The Wing Hong Kong Cathay Solus Chair
As such it has its own lounges in
London LHR
(T3 airside (turn right at SAS lounge): open 0530-2200),
Melbourne
(T2, First floor, after Customs: open 3 hours before departure,) Bahrain (1700 - 2230 (Tue/Fri/Sun to 0120): Level 3, gate 16), Bangkok (Concourse G, level 2, 0530-1930 (to 0030 Tue/Fri/Sat) although BA lounge is better), Beijing (joint Dragonair and Cathay Pacific Lounge (Terminal 3), open 0530 - 2100), Frankfurt (Terminal 2, open 0600-1400), Kuala Lumpur (open 0700-2300), Paris CDG (Terminal 2A, open 0950-1350 (& 1900-2305 Mon, Wed, Fri, Sun)), Penang (0600-0800), Seoul (Concourse A, 4F, by gate 118: open 0630-1000, 1215-1520, 1700-2000),
San Francisco
(0800-1200 and 1930-2330) and Vancouver (1115-1310 & 2000-0205 (extra hour in clock change months)).
Elsewhere, airport or oneWorld lounges are used, such as in New York (British Airways First and Terraces lounge), Los Angeles (oneWorld lounge, level 5) and Toronto (The KLM Crown Lounge of all places).
Cathay Pacific Hong Kong lounges
If you fancy going on a lounge crawl, Hong Kong is the place to do it. You could - if you really have nothing better to do close to one of the world's most active cities - spend all day going around the four main Cathay Pacific lounges at Hong Kong, plus the other two oneWorld lounges at HKIA.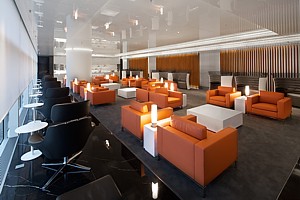 Cathay Pacific The Wing Hong Kong the new lower level
However reviews of lounges at Hong Kong show that they are all pretty much the same. The Wing and The Pier both have separate First Class sections, showers, and the same food and seating. However the Wing has First Class cabanas (bathrooms with a chaise lounge and bath) and a a "Gamezone" with plenty of electronic toys. The Cabin compliments the Wing, with different food (hot sandwiches, antipasti, and freshly squeezed juice) and a better business centre. If you only have time for one lounge, make it The Cabin. Also lacking a First Class section is the G16 lounge, which is the former Dragonair lounge, offering a Chiu Chow Express noodle cart, but the lounge atmosphere is pretty poor.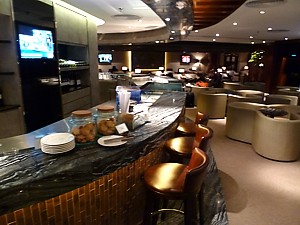 Hong Kong Stuck overnight? The Travelers Lounge bar is 24h
However, when on your lounge crawl remember that the airport is big, and that the concourse shuttle train at HKIA will only move you outwards, and it's a long walk back from the Pier to the Wing.
Alas, there are no oneworld lounges open 24 hours a day at HongKong, so you can't overnight inside the terminal itself, unless you buy admittance to The Travelers Lounge (and while you're there, pop in the missing "l" and apostrophe): at HK$420 for a six hour overnight stay (including bed, shower, and breakfast) it is pricey, but well worth it if you're stuck overnight. The bar is open 24 hours a day too.
Cathay Pacific Hong Kong - The Wing lounge
Left after Immigration and Security, near gate 4, level 6.
Open 0630-last flight
For many passengers this is
the
main Cathay Pacific lounge at its hub in Hong Kong. It isn't - but it's really the first one many passengers come to, because of its right at the "root" of the airport.
There are two levels to the Wing. On the ground floor first is to the left, and business to the right, while upstairs business dominates the entire area. The Wing has an open-air granite design which gives it a spacious feel (but also means that there is a greater noise level when flights are departing from one of the gates underneath it).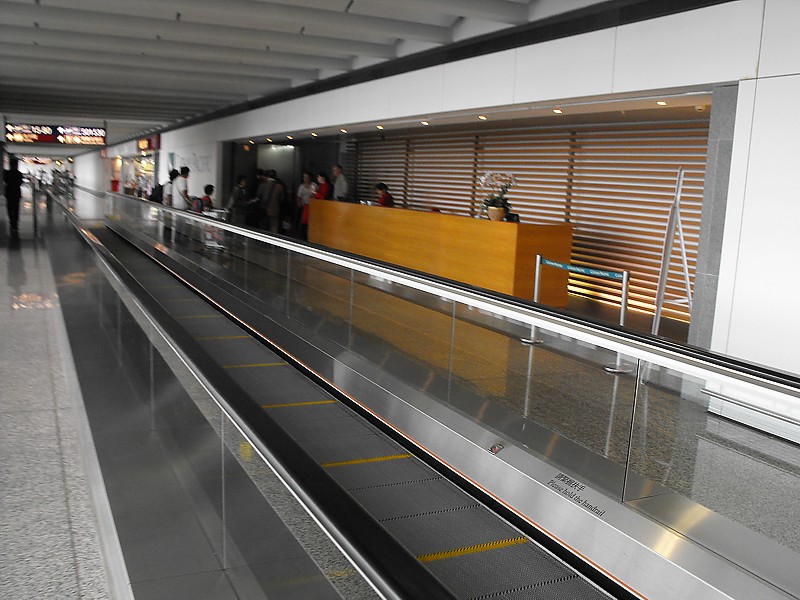 Hong Kong The Wing lounge entrance
The Wing's published hours are from 6.30am, but they generally start opening the doors with basic service at 5am. The Wing is also used by Aeroflot, Shenzen Airlines, plus the Star Alliance interlopers, Swiss, and South African Airways (perhaps a hangover from when they were closely aligned with oneWorld).
The Wing First Class lounge
Access to First class, Gold or above Marco Polo Club, and oneworld Emerald only
Welcome to that rarefied beast, the famous Cathay Pacific First Class lounge, The Wing. And once inside, you do find yourself asking "what was all the fuss about?"
The answer is brilliant food, a sit down restaurant catered by the Peninsula hotel, Cabanas, library, and a splendid view, with an airy bright feeling that means you can look out onto the great unwashed. The lounge is to the left of the main entrance on level 6. Seating is deep chocolate sofas under the bright lights of the airport terminal.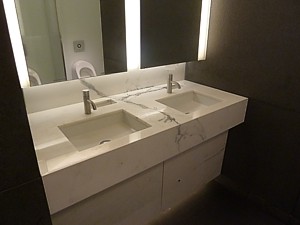 Cathay Pacific Hong Kong - The Wing Business Class lounge
The Food is why many people come here. There is a full service restaurant, called "The Haven". It offers a sit-down waited restaurant offering hot and cold high-end cuisine, catered by the Peninsula hotel, except in the early morning when there is a breakfast buffet. Don't feel you have to have this though: the waiters are very attentive, and will bring you anything you want, including items from the Business Class noodle bar.
The Library in the Wing's First Class section is much cosier, and a great place for a snooze if you need: low and dark, with minimal lighting, and strange Mondrian type print on the wall, hours here pass surprisingly quickly.
The Wing First Class lounge has of course those famous cabanas, which are bathrooms with a "shelf" on one side featuring a chaise lounge and a large oval bath. The shower has a rainfall shower head. Amenities such as Elemis toiletries, slippers and bathrobe are free, as you'd expect. Don't make the mistake though of just asking for a shower. You'll be very disappointed if you pick a shower room instead of a cabana. It is worth the wait to get a cabana, and wait you will: almost always shower rooms are always available, while cabanas are in high demand.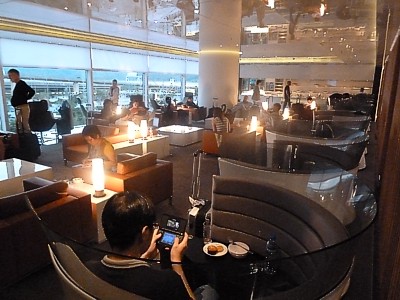 Cathay Pacific Hong Kong - The Wing Business Class lounge
The Wing Business Class lounge
Access to First & Business class, Marco Polo Club Silver or above, and oneworld Saphire
There is a small lounge on the ground floor, and then a much larger lounge upstairs, which is vast; as a result the edge is slightly taken off its elegant and stylish interior. Indeed, it can seem a bit formulaic with red and yellow armchairs in long lines, facing coffee tables, separated by room dividers.
Revamped in the latter half of 2011 and 2012, the Wing renovations were designed by London-based architects Foster & Partners. They did a very good job. Major changes introduced as part of the revamp are that the computers and the showers have moved downstairs, as part of the concept to have the upstairs much more airy and open plan.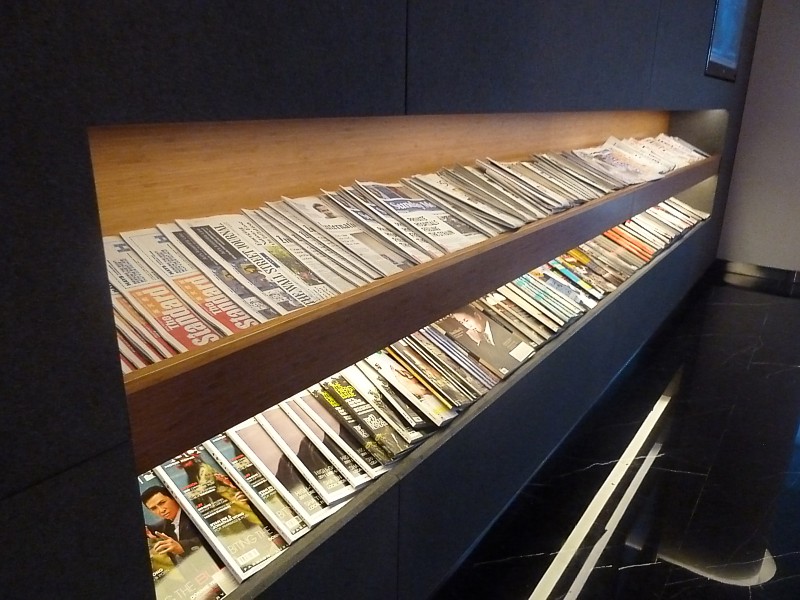 Hong Kong The Wing lounge newspaper rack
The refurbished lounge downstairs offers 28 comfortable armchairs in rather revolting orange leather, and nine of the unique Cathay Solus Chairs against the rear wall. These ones, unlike the ones in the Cabin, are made out of grey leather, but feature the usual flip down tray and slightly uncomfortable padded leather seat. These line the wall of the room, while in the centre are red leather armchairs, and at the windows, black leather swivel chairs.
Downstairs at the far end there is also a new self-serve buffet counter featuring the usual selection of Asian and Western hot dishes along with cold food selections, in large brushed aluminium tureens. Alas, this all means that the old smoking bar has bitten the dust (partly because it is also now illegal.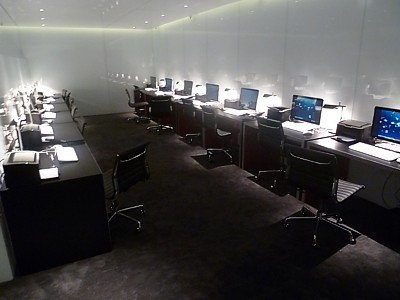 Cathay Pacific Hong Kong - The Wing Business Class lounge Computer Room
At the other end of downstairs are some very nice showers - each equipped with own toilet and wash basin. The vastly uprated showers (24 in total) are very good indeed offering a large shower cubical lined with large sandstone tiles, access off a dark black granite corridor. Biotherm cosmetic products are left in the cubicles.
The Level 6 Business Class Lounge, is now also downstairs, and has 26 brand new fast computers, of course free Wireless internet access, and a fax and photocopier in one corner.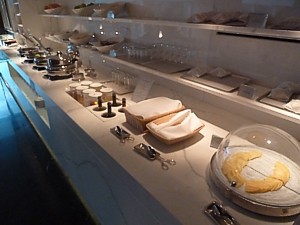 Cathay Pacific Hong Kong - The Wing Business Class lounge
Upstairs it's a rather different beast, although the good news is a new arrival: The Coffee Loft where you can look out onto truly amazing views of the airport below, and the hills of Hong Kong through the window. They also brew a mean cup of tea.
Food is well catered for with "The Noodlebar". It offers a vast range of fresh prepared Asian noodle dishes from an a la carte menu. To get the true Wagamama feeling, you even sit on long wooden benches, at high wooden tables. Just pop up to the serving hatch with your order. If this sounds a bit to ethnic for your tastes, there is the choice of more western food, like sandwiches, from the usual buffet corner.
Drinks are well catered for at "The Long Bar", that curiously, it is 28.5 meters long, which still allows Swiss to claim that their Long Bar half a world away in Zurich is the longest airline lounge bar in the world, even if by just 10cm. Alas, the seats here are nearly as uncomfortable as the ones in Switzerland, being square lumpy stools. Thankfully the drinks selection is great, with Sparkling Wine and cocktails mixed by a waiter, however to keep the minimalist look, all the drinks are kept out of sight. There are snacks at the long bar too, with Dan Dan Mien (chicken in Spicey Crushed peanut sauce), Won Ton Noodles and soup, Ramen, and Beef Brisket, under the small metal heater.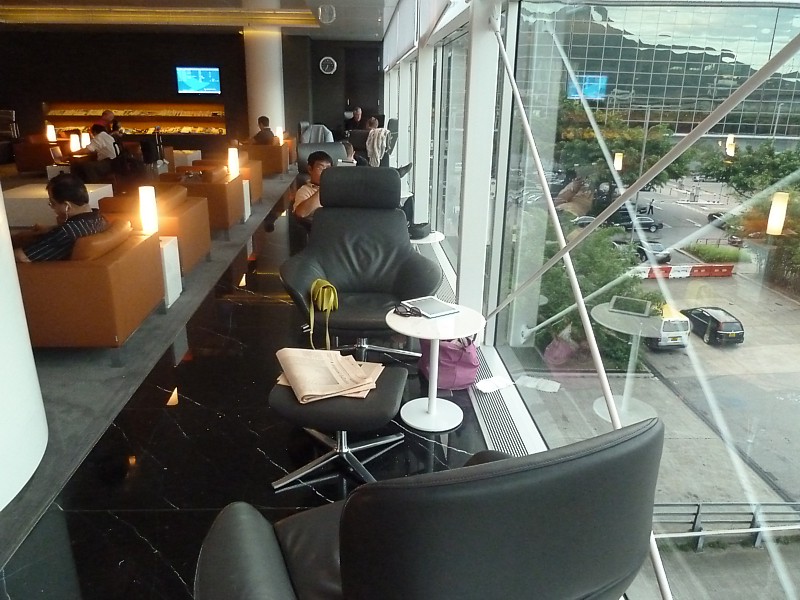 Hong Kong The Wing lounge
"The Short Bar" is the smaller brother in the corner, with just four high stools, but it's well worth while investigating, as it offers Haagen Dazs ice cream, and a fridge with cakes, crisps, salads, and even a basket with fresh fruit. Tucked away around the Corner is another bar, in of all places, the middle of the Smoking Room.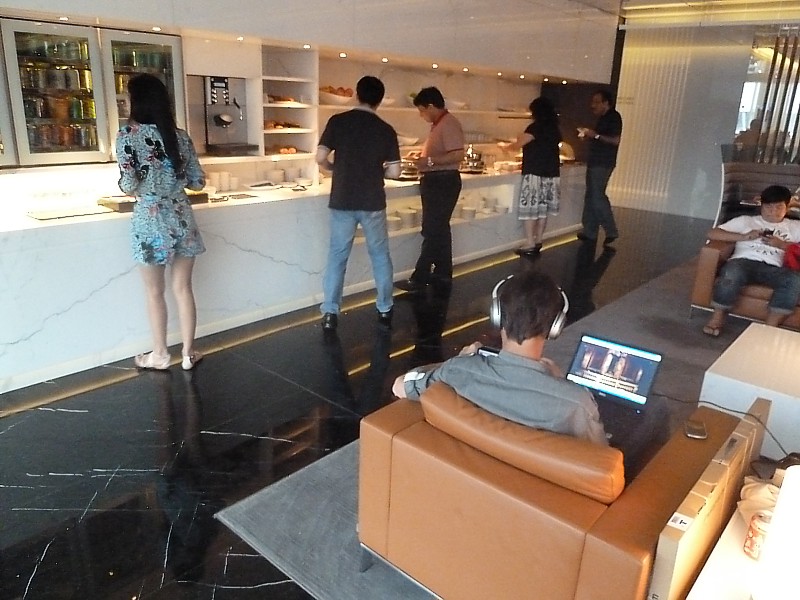 Hong Kong The Wing lounge
There is a vast business centre, with lots of working desks with phones and laptop network sockets, around strange twins of brown armchairs, and a desk with one chair: just spot and see how many businessmen seat their wives at the chair, while they work at the desk (and of course a few the other way around!). There is of course free Wireless internet access, and lots of PCs if you need one. There is a fax and photocopier in one corner, if you really need it. At the far end of this is "The Reading Room" with very uncomfortable chairs, and a vast selection of international newspapers and magazines, on the rack by the door. There are all the usual Hong Kong and Chinese papers, plus The Sydney Morning Herald and Australia, Financial Time, Times, Guardian, and even the Observer on Sundays.
The Lounge Entertainment System is a weird one: it's very similar to the entertainment system you'll get on the plane, with a small LCD screen and headsets, but in a hard plastic shell called "The Pebble". From here you can select 12 TV Channels (Domestic Chinese ones) 100 CDs, plus on screen 3-Day Weather Forecast, and Flight Information.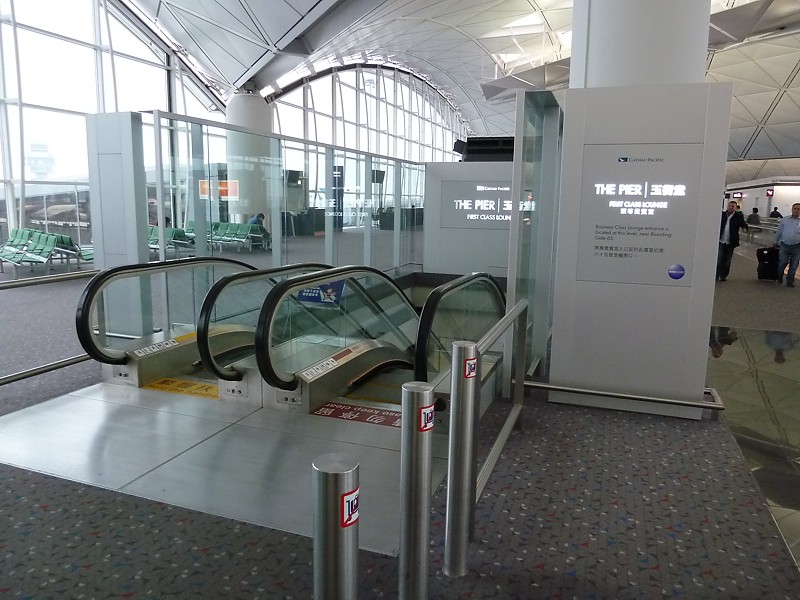 Hong Kong The Pier lounge entrance
Cathay Pacific Hong Kong - The Pier lounge
Airside, level 5, near gate 62-66.
Open 0600-2330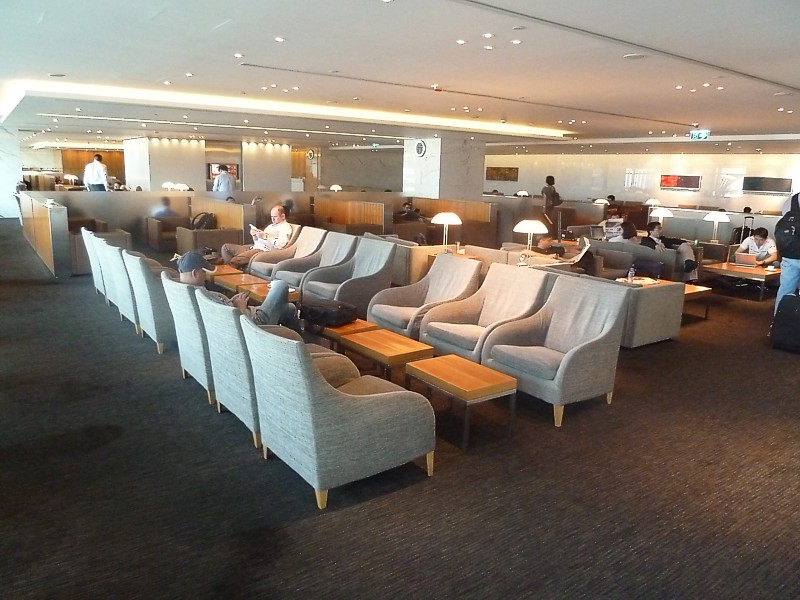 The Pier Cathay Pacific Hong Kong Busines Lounge
The Pier is way way up at the far end of the very long arm of Hong Kong Airport: so far up infact, that you'll be unlikely to want to go up here, unless your flight departs from nearby gates: if it doesn't, it's a long walk back to the "root" of the airport, and remember that the airport train now only runs one way. You'll be on Shanks' pony to get back there.
Located at Level 5 near gates 62-66, The Pier covers over 3900 square meters, which sounds a lot, but you won't really get to see it because the lounge appears, from the main airport concourse, to be underground.
A major problem of Cathay Pacific's hub in Hong Kong is that there are a vast number of flights scheduled to take off at 2355: many of them take off from around The Pier, and boy, does this place get busy at just before midnight.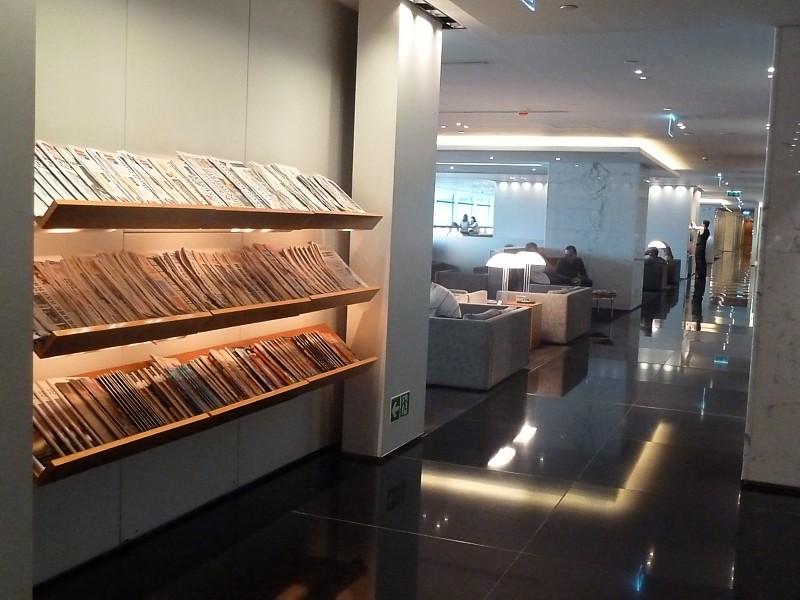 The Pier Cathay Pacific Hong Kong Busines Lounge
Annoyingly, the lounge also shuts half an hour before these flights take off, and the staff run around trying to shoo you out: considering there are 747s leaving for everywhere from London to Johannesburg, Rome, Frankfurt, Paris, Amsterdam, plus Airbuses to half a dozen places in Australia, all within five minutes of each other, this place descends into something akin to checkout hour at a backpackers where everyone is trying to avoid turning into a pumpkin. For once, there is a major advantage to leaving the lounge early and getting onboard with a preflight bubbly.
The Pier First Class lounge
Access to First class, Gold or above Marco Polo Club, and oneworld Emerald only
There are no windows in the Pier First Class lounge, and since the Pier has opted for white marble, the whole effect is of a sort of underground mausoleum, compounded by the way the Pier First Class lounge has dayrooms with sleeper chair.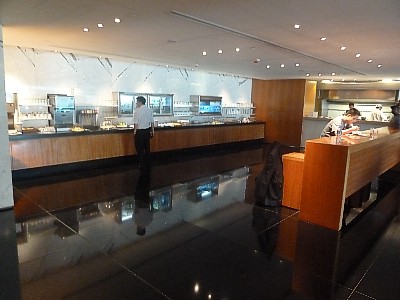 The Pier Cathay Pacific Hong Kong Busines Lounge - The back Noodle Bar
The lounge itself is very good, and a convenient stop off point if you've treked all the way from the wing, however the gloomyness of the lounge means that many people prefer the Wing.
The Pier Business Class lounge
Access to First & Business class, Marco Polo Club Silver or above, and oneworld Saphire
This really is a vast lounge - and it needs to be, to cope with the peak in demand at about 11pm, when so many 747s fly out from Hong Kong around the world, packed with business class passengers. And many of them seem to loaf away the hours here, from 5pm when the office packs up, until midnight.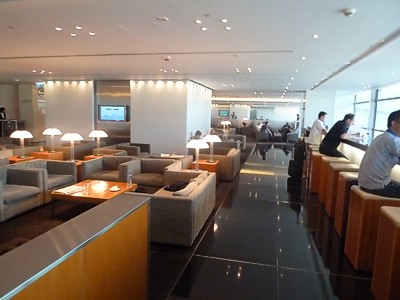 The Pier Cathay Pacific Hong Kong Busines Lounge
There's acres of space here, and lots of chairs. Lots and lots of them: big wide armchairs facing over low coffee tables, most of which have power sockets (UK/Hong Kong type) down by the legs too. At random sections of the room there are low glass wall dividers, although they aren't particularly pretty.
When you descend the escalators into what appears to be the bowels of the building, what you don't expect are the impressive view of nearby boarding aircraft, from windows that are just below the level of the nose.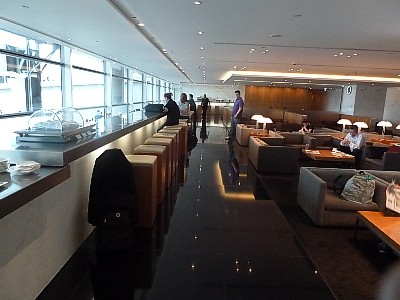 The Pier Cathay Pacific Hong Kong Busines Lounge - the Long Bar with the view
The Long Bar is, as you'd expect, a long metal topped bar with those well known Cathay Pacific square lounge stools, facing a bar with a widescreen TV that seems to be permanently on Eurosport. There are of course several fridges around the lounge with beer, stocked with that Hong Kong favourite, San Miguelle.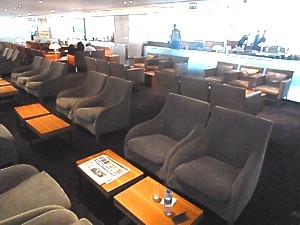 The Pier Cathay Pacific Hong Kong Busines Lounge
It's just around the corner from the Noodle Bar, with classic Asian wooden bench tables, and large square seats. There are, as you'd expect, plenty of noodles, but European fare is slightly harder to find: you'll have to track down the sandwiches in clingfilm. If you do choose to go for the noodles, go up to the serving hatch to order them. Service is very quick.
Instead of a Business Centre, Cathay Pacific call it a "Personal Living Space", which have fairly basic computers, but they do have free internet access, and there are phones, a fax amd photocopier.
There are plenty of Shower Suites. With white marble walls they look as classy as they feel, and have hangers and coat hooks, a hairdryer, clean towels and the obligatory shower with both hand-held or rainfall showerhead options.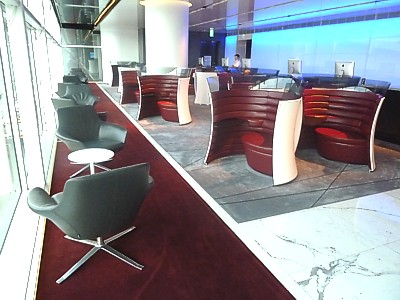 The Cabin The Techno Bar with computers, LED light wall and Solus Chair
A nice touch is the rear wall, which is made of round water pebbles.
Cathay Pacific Hong Kong - The Cabin lounge
Airside near gate 23.
Open 0530-0030
Access to First & Business class, Marco Polo Club Silver or above, and oneworld Sapphire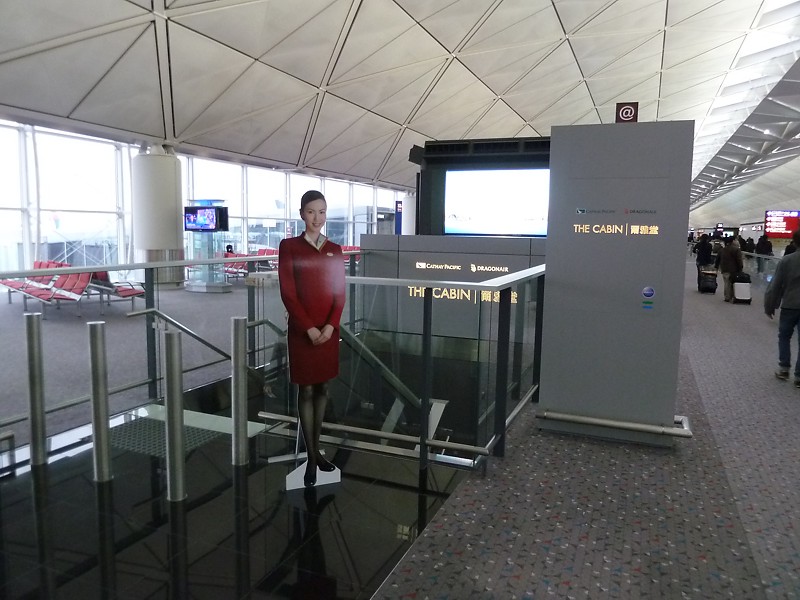 Hong Kong The Cabin lounge entrance
Described by Cathay Pacific as "contemporary, refreshing and dynamic", it is a move onwards from the design of the original Pier lounge, which is now looking a bit careworn. Indeed The Cabin features a cutting edge design so much on the edge of ultra-modern it could also be called achingly trendy.
For all its aspirations, the new lounge is separated into five fairly normal zones. Once past reception, there is a business centre (The IT Zone), a walk up food bar (The Deli zone), a long bar (The Health Bar Zone) and The Relaxing Zone - the new name for the trendy seating area, which features a blend of warm wood, bamboo, white marble and dark granite that builds on the airline's existing lounge palette, apparently.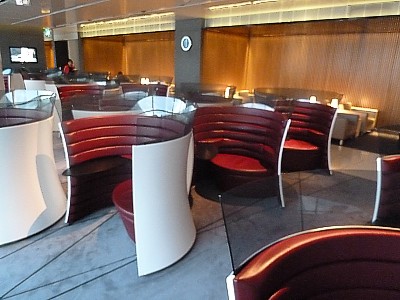 Hong Kong the Cabin Relaxing Zone with the Cathay Solus Chair
In The Relaxing Zone, there are, as you'd expect, chairs. The Oscar chair is designed by Pearson Lloyd and made by Walter Knoll. The alcoves contain Foster 503 arm chairs designed by Sir Norman Foster and again made by Walter Knoll which give a bit more privacy.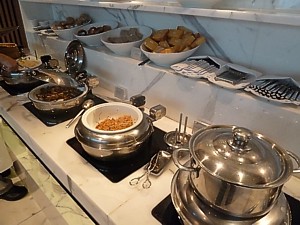 Hong Kong Cathay Pacific The Cabin lounge
The biggest attraction in The Cabin is a new toy called the
Cathay Solus Chair
. Just incase you don't spend enough time in one seat while you are on the plane, you can get the same experience on the ground. This is a purpose-built pod where you can eat, work and sit. Costing thousands of pounds, and after years of trials with Marco Polo Club members it is rather like a curved portaloo, with acres of red leather, with a flip-down table to eat your meals (also known as a shelf) and to complete the in-flight experience, there is a small TV screen in the form of an iPad, which comes pre-loaded with apps. There is even a power outlet (UK design 13 amp plugs only) for your inflight-laptop. Foster + Partners jointly created this unique chair, refined the chair's functionality and ergonomics, and it has then been handcrafted by Poltrona Frau in Italy, before being air freighted in, which is the nearest this seat comes to flying.
As if the leather on this chair wasn't eye-popping enough, there is a 30 foot long glass wall with pulsating LED lights in the IT Zone.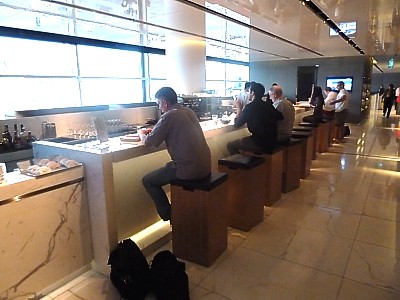 The Cabin lounge The Health Bar Zone
It is designed to provide an "energetic feel", overhanging the
Techno Bar
, which isn't a the king of Bavarian dance music as you might expect, but instead provides a caffeine fix while you use one of the 11 PCs, 6 Apple iMacs and 20 Apple iPads in addition to a video-conference room. The workstations are made from hardwearing black Italian stone and trimmed with stainless steel no less, while the painful sounding LEM piston stool is an easy swivel and has a small back on which to hang your techno jacket.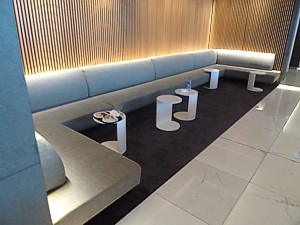 Hong Kong Cathay Pacific The Cabin lounge
If you tire of these delights, there is a walk-up buffet with sandwiches. But not any sandwiches - these are Cathay Pacific sandwiches, from the All Day Deli no less. Taking its name from the economy class bag handed out in the late 90s by BA, The Deli offers made-to-order hot sandwiches, fresh antipasti and salads. The buffet counter and Deli are crafted from white Carrara marble and framed with a slatted bamboo wall to create a premium ambience. The dining tables are custom-made in white Corian and accompanied by the Catifa dining chair by Arper and leather banquette seats.
At The Deli, fresh food if offered up to you on the newly designed "Cathay Pacific Signature Plate". This custom-made porcelain plate has a subtle abstract bamboo pattern and has been produced exclusively for Cathay Pacific by Noritake of Japan.
Of course, after all this excitement, you'll probably need a drink. Despite the scary name of the Health Bar Zone, the Long Bar has rather grumpy barstaff who will pour a drink for you; there is a wine list, along with Sparkling Wine, and of course beer on draft.
To complete the design, and to tick off all the flourishes, make sure you check out the reception wall made of Venetian glass tiles by Fabbian of Italy.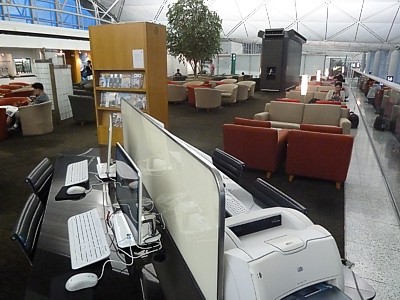 Hong Kong Cathay Pacific G16 lounge
Cathay Pacific Hong Kong - G16 Lounge
Near gate 16.
Open 0600-0000
Access to First & Business class, Marco Polo Club Silver or above, and oneworld Sapphire
The G16 lounge is located in the North concourse, right by Gate 16, and if it looks a bit old, that's because it is, having a past life at the former Dragonair lounge, which has now been taken over by Cathay Pacific.
It is a "one lounge" complex, which is a simple way of saying it does not have a separate First Class section, and with food similar to that available in the Business Class sections of The Wing or The Pier.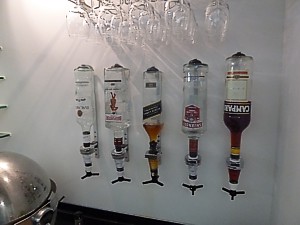 G16 lounge The bar - all of 5 spirits, on optics
It really is the most unimpressive of the lounges at Hong Kong, with a slightly daggy feel, as if it is a leftover that noone can quite work out what to do with it. However if does have one advantage that the other lounges do not: a massive open air space up to the roof with lots of light. Watching the sunsets from the terrace in this lounge would be an amazing experience, if it wasn't for the worn out chairs and the slightly too-much-space, find some more plants to fill it, to hype up the atmosphere.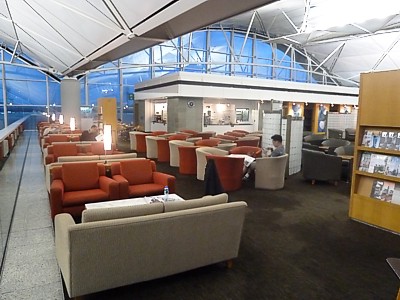 Hong Kong Cathay Pacific G16 lounge
One hangover from its past life is that the noodle cart is contracted out to Chiu Chow Express rather than The Peninsula Group. There are wonton noodles and fishball noodles, prepared by the on-site chef from 7am to 6pm: to select a dish go up to the serving hatch, and select an option: there are pre-made plates so you can see what they look like.
There is also a buffet counter, but don't get too excited, as it really is a very poor selection on offer, with soup, sandwiches, or one hot tub with rice and beef.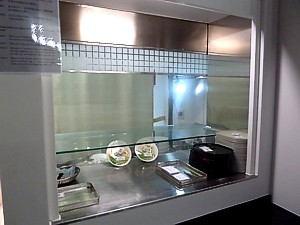 G16 lounge Chiu Chow Express serving hatch
The bar is very poor indeed. There are cans of beer in the fridge, or all of five optics with spirits on the wall: Smirnoff Vodka, Beefeater Gin, Jonnie Walker Black Label, Campari and Bacardi make up the selections. Cans of soft drink are around the corner in the free standing fridge.
Computers are good, with a small enclosed computer room in little wooden hutches in the block behind the terrace. There are showers here too. There are also four more computers right at the tip of the nose of the terrace overlooking the gates: these have to have some of the best views for computers at Hong Kong.
Cathay Pacific Hong Kong - Arrivals Lounge
Landside, centre passage between T1+T2, below Airport Express station.
Open 0500-0000
Access to First class, Gold or above Marco Polo Club, and oneworld Emerald only
This tiny box of a lounge is located in the passageway between Terminals 1 and 2 (after you've gone through passport control and customs.
Entry is very select: the only passengers entitled to use The Arrival are First Class, Gold tier and above Marco Polo Club members and oneworld emerald passengers arriving off a Cathay Pacific or Dragonair flight. If you are in Business Class you do not get any automatic entry.
As soon as you are inside, it's quite clear that Cathay Pacific was only able to buy a small space from the airport authority for construction. There really isn't a lot here.
One further note - you can get into the lounge if you are in transit, so long as you are in a same day transit exceeding four hours, and then you have cleared passport control and customs. However, you have to ask the question, why bother? Eligible transit passengers are entitled to use any of the four departure lounges anyway.
Melbourne - MEL - Cathay Pacific Business Class lounge
Airside, basement level
0500-0800, 1100-1400, 2100-0000
Access for Business Class, Marco Polo Club Silver or above, and oneworld Emerald & Sapphire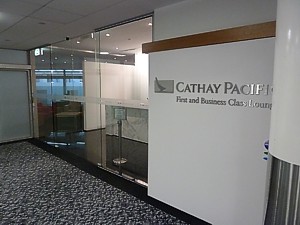 Cathay Pacific Melbourne lounge
This pleasant lounge is tucked away and a bit of an oddball. Cathay almost seem ashamed of it, and try hard not to advertise its presence. Its odd having it here anyway: at the much busier Sydney Airport, Cathay use the Qantas facilities, and anyway in Melbourne you can use the excellent Qantas lounge next door. It is also very small, but then few people find it, so that hardly seems to matter.
So is the Cathay Pacific business class lounge Melbourne worth it? Yes, but only a tentative yes. It is very small, with just four squares of chairs separated by glass dividers, and feeding station up at the far end. There are however excellent views of the gates. Alas, there is a plastic film over the window, so it's impossible to take pictures from the lounge.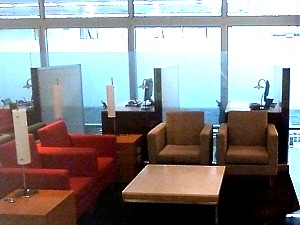 Cathay Pacific Melbourne lounge
Also, there is no longer a divider in the lounge for First Class (since Cathay Pacific now fly two class planes only from Melbourne, although at one stage this divider was just a rope for a couple of the sofas).
If you are a oneworld Emerald you can access the Qantas First Class lounge on the top floor, which is vastly better, with much better food and waiter service, and even a spa with massages and facials.
Food is composed mainly of sandwiches, plus hot soup and a small selection of salad with ham and cheese. There is a small walk up bar with spirits on free pour. Beer is VB, and crown in bottles. There is a small pile of newspapers however unless you want The Age, or The Australia, you're pretty much going to be out of luck.
Incidentally, if you're puzzled as to the vast rack of lounges that Melbourne has compared to Sydney, the answer seems to lie in the higher rents that Sydney charge, plus the way that Melbourne has two floors of lounges which aren't in the main shopping area, and which would be difficult to convert to retail... and which it encouraged airlines to sign up for on very long leases.
London Heathrow - LHR - Cathay Pacific lounge
Terminal 3, Airside, left after Caviar Bar, Area C, up lift
Open 0530-2200
Access to First & Business class, Marco Polo Club Silver or above, and oneworld Emerald & Sapphire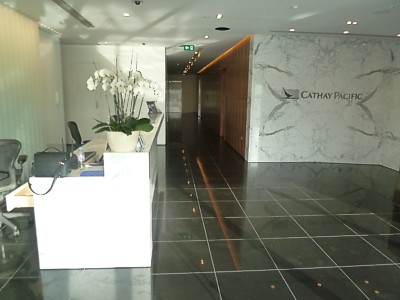 Cathay Pacific London LHR lounge reception
With four flights a day to from the old country to the New Territories, and significant premium loads, it's no surprise that Cathay Pacific have full lounge facilities at London Heathrow, with both a Business and a full First Class section. They are among the smallest oneworld Heathrow Terminal 3 lounges, occupying only 900 square meters, however many longhaul Qantas and BA passengers make their way here, thanks to the excellent showers, and top noodle bar.
Finding the lounge is a bit of a trek, now that BA have moved the entrance after security to the extreme left of the terminal, forcing everyone to walk through the Duty Free Shop. Indeed, from security Fast Track you could almost walk directly to the lounge, but instead you need to zig-zag left then right through the Duty Free maze, then turn left after the Caviar Bar, and head for Lounge Area C, then take the lift next to the cardboard cut-out crew member to the upper floor which enters into the white marble reception area. First is left and behind you, while business is to the right, and down the corridor past the showers.
The reception area in the new Cathay Pacific London lounge makes extensive use of classic white marble, one of the key components adapted from the design of The Wing and The Pier at Hong Kong International Airport.
Shower facilities are among the best at Heathrow, with five fully equipped shower suites common to both lounges, again in the classic white marble. You need to ask at reception for a towel.
Cathay Pacific London Heathrow - First Class lounge
Access to First class, Marco Polo Club Diamond, and oneworld Emerald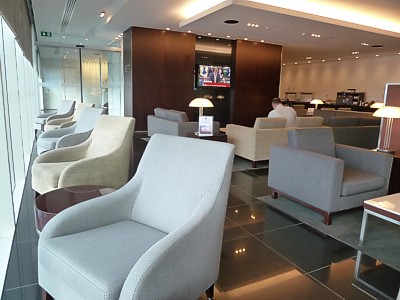 Cathay Pacific London LHR First Class lounge
Cathay Pacific's new First Class Lounge at London Heathrow Airport features a high-ceiling window wall with a great panoramic view of the apron area, and aircraft at their gates. Most of the seats looking out through the window are singles and ideal if you want to watch the traffic on the Northern runway. Inwards of the windows are three very comfortable sofas, which almost feel like you are at your home, as they also have plasma TV screens. Normally these are on News 24, but you can flick them onto all of the Freeview channels. There is one further lounging area, around the corner, which is pretty large - hence, you may end up sharing it at busy times, and it's also opposite the noodle bar, so no very private. Cathay Pacific call these "Personal Living Spaces", which to an extent they are, but with only 49 seats in the lounge, if you get there late, on the late night flight with plenty of oneworld Emeralds, its common to find all these have already gone.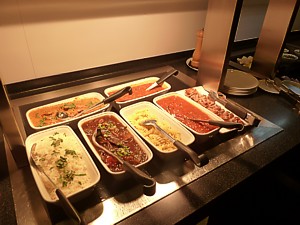 Cathay Pacific London LHR First Class lounge
Food is good in the Cathay Pacific London Heathrow First Class lounge, but noticeably it is pretty much the same as in the Business Lounge next door. It's not quite up to the standard of the BA First Dining Room, but it does have the delight of a cook to order noodle bar: if you've been missing Hong Kong specials, they will do them for you. There is a menu on top of the hotplates, and you just have to ring the bell next to the serving hatch, just as you would in the Hong Kong Pier and Wing lounges. Options generally include Shrimp & Port Wonton Noodles, Don Don Noodeles, and Rice Vermicolli. These noodles are available all day, as is the salad in the fridge section on the worktop. In the evening, before the three main day Cathay Pacific flights from LHR to HKG, large tubs of curry, pasta and rice appear on the hotplate. Some of these can be quite unusual, such as Duck Curry. There are also bags of crisps and bowls of nuts and olives.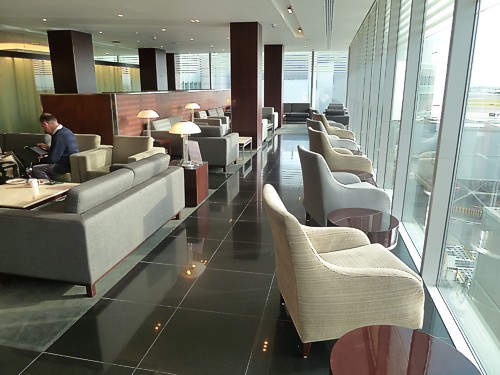 Cathay Pacific London LHR First Class lounge
The Cathay Pacific First Class London Lounge bar is a notable step up from Business next door. There is always a good Sparkling Wine - generally Veuve Clicquot - and five good whites in the refrigerated area, including a rosé and a very good desert wine. There are three very good reds (generally French) on the counter top.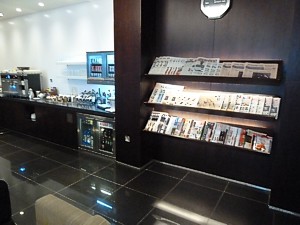 Cathay Pacific London LHR First Class lounge
There are cans of Singa and Tiger beer in the fridge, however curiously spirits are very poor, with only Bacardi, Black label, Campari, VSOP, Glenlivet, Jack Daniels, and Bombay Sapphire. If you are a spirit drinker, the BA lounge is better.
A curiosity of the Cathay Pacific First Class Lounge Heathrow LHR is that even though many passengers now bring their own laptops, Cathay chose to devote over half of the lounge to desk space with Computers. These desks are really large, and so it's a disappointment to find that the PCs are slow, with only IE6. There is also no printer - you have to go to the business lounge to find one of those. There is free Wifi, although it is not the fastest.
There is a very good newspaper rack next to the bar counter: it has all the main UK and Hong Kong papers, plus a few from mainland China and Finland. There are also plenty of magazines, from Hello to lifestyle magazines, and oddly plenty on yachts. Showers and toilets are outside the lounge.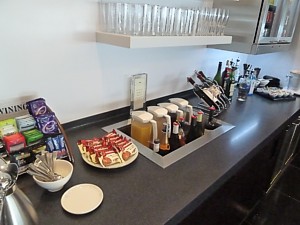 Cathay Pacific London LHR First Class lounge
One last curiosity of the lounge is the inner wall of glass, with net curtains: there is nothing special behind these: it's just the glass wall of the inner Business Class lounge.
Cathay Pacific London Heathrow - Business Class lounge
Access to First & Business class, Marco Polo Club Silver or above, and oneworld Emerald & Sapphire
The Cathay Pacific LHR Business Class lounge occupies the large area at the back of the lounge complex, with what Cathay like to say are four distinct zones where passengers can relax or work. In reality, this means banks of 136 rather dull red and grey seats, spread over most of the lounge, with computers by the entrance, dining tables on the right, and a long white marble bar near the food area. There are windows, but the view is rather set back from the other lounges, and you'll need to squint to see the runway in the distance. The areas is divided by low walls which double as newspaper racks, while lift music plays continually. At one end of the lounge there is a large TV - generally on BBC News - and here the two sound systems fight it out. Relaxing, it is not. Crucially, there is no sleeping, or even napping area in the lounge, and no real variants on the seats either: if you want a kip, the AA lounge is better, while the BA lounge offers more variety. The lounge can also get very busy in the evenings, just before the three main Cathay flights at 6pm, 8pm and 10pm: however during the day it can be all but deserted.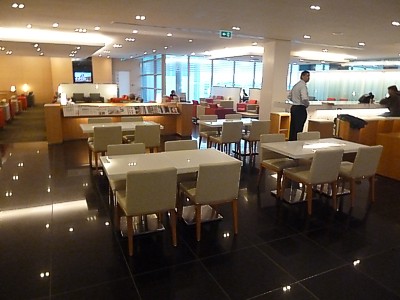 Cathay Pacific London LHR Business Class lounge
It is the food that draws many people here - specifically, on-demand fresh noodle bar, which offers some of the best asian food of any of the London Heathrow lounges. There are options of Shrimp & Pork Wonton Noodles, Don Don Noodeles, and Rice Vermicolli from 10am. You can also customise all of the variants: just ask at the counter. For example, if you want just the wonton soup, but with no noodles, that's easy to do. There are bowls of nuts on the worktop, but no olives.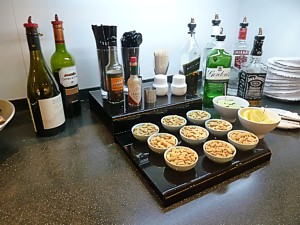 Cathay Pacific London LHR Business Class lounge
If you prefer more western food, there is a hot plate which is empty during the day, but in the evening there is a meat and a veggie curry and rice, along with pasta and a couple of pasta sauces. Soup is available in the evening, with a dark dry brown bread. All day there is a salad bar, but it is rather poor with lousy presentation, and with only one type of dressing (French), which you can take to the long table beside the buffet, and admire the "Cathay Pacific Landscape Wall" (that's the big glass wall, which separates the First Class section).
The bar is pretty good for wine, but poor for spirits, with three very good whites and a rosé in the chiller, and two reds on the counter top. There is little influence of the new world here. Whites tend to be Italian, while the reds are French, although occasionally a California red appears.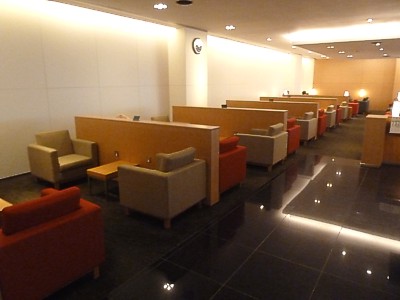 Cathay Pacific London LHR Business Class lounge
There is no Sparkling Wine, but there is normally an Austrian Prosecco for bubbles. Beer is in bottles in the fridge, with some London specials along with Tiger and Singa. There are spirits on the worktop, but only basic Gordon's Gin, Black Label, Smirnoff, and Jack Daniels. There is also a huge and quite complicated coffee machine.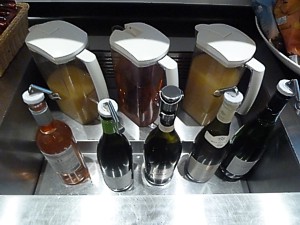 Cathay Pacific London LHR Business Class lounge
Just by the entrance there is a small glass walled business centre with six computers. Alas, these weren't replaced when the lounge was updated, and they are really slow, with only IE6. There is a printer on a small marble pedestal, but with most travellers bringing their own laptops, few people use these computers. Alas, the wifi is appallingly slow - down almost to dialup speed in the evenings when most people use it - and as a result, this is not the lounge to do any work in. The AA lounge offers much faster Wifi. There are also very few power sockets in the lounge: to find them, look under the pine side tables which have lights on. Sockets are UK/Hong Kong style only.
Along with low newspaper rack in the middle of the lounge, there is also a larger rack with most of the daily UK newspapers (Mail, Independent, Times, Telegraph, Standard, but no Guardian), and all of the Hong Kong, Finland (all 3 national daylies including the Helsingin Sanomat), Italian, and Spanish newspapers. Magazines are also surprisingly good, with everything from Hello to the Economist.
Singapore - SIN - Cathay Pacific lounge
Terminal 1, near Gates D30 and D40, up escalator next to the Times bookstore & Fish Spa massage
Open 24 hours
Access to First & Business class, Marco Polo Club Silver or above, and oneworld Emerald & Sapphire
If you want to visit unusual, offbeat, and decidedly random lounges, the Skyview lounge is the way to go. The lounge is hidden away on the upper floor of terminal 1, on what seems like a balcony. To find it, head for the signs saying Swimming Pool, and it is on this almost forgotten corridor, up a small escalator, at the top of which is a small reception desk.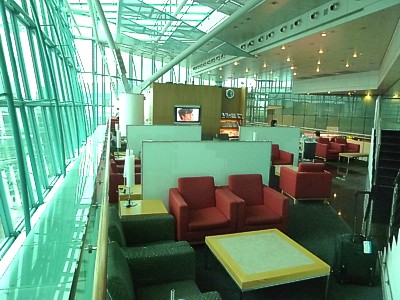 Singapore Skyview Lounge Cathay Pacific Singapore lounge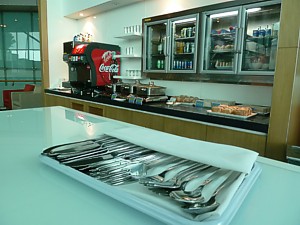 Singapore Skyview Lounge main food counter
At Singapore, Cathay Pacific use the Skyview lounge. This is technically contract lounge run by dnata, however it also doubles up as the 'almost' oneworld lounge, with a large oneworld sign Saphire / Emerald logos, and Cathay / Finnair signs. Any passenger with either a same-day oneworld airline business or First class ticket has access to the lounge, or with oneworld Sapphire or Emerald. It's also the Skyteam lounge, with equally large signs for Airfrance, KLM, and Delta. Add into the mix Air China, China Airlines, Air Mauritius, Bangkok Airways, and even Sri Lanka Airlines (until they moved out) and this is a real hotch-potch of a lounge. It also, of course, takes Priority Pass, and you can even buy a daypass. Forget trying to sort out flight problems at the desk however: the staff here are lounge contractors only, and can't help with any flight details or information. Never the less many oneworld passengers make their way here, because the views from the lounge are much better than in the Qantas club, and if you're into Asian food, then it's much better here.
The main part of the lounge, on the balcony, has plenty of seats of the usual Cathay Pacific style, and is dominated by a large white countertop of the food bar, with food at one end, and drinks at the other. There are huge floor to ceiling windows, with a great view of the gates. Right from reception there is more seating, and eight glass walled computer workstations.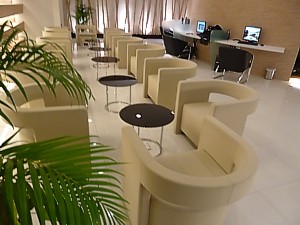 Singapore Skyview Computers in the rear room
Left from reception there is another triangular seating area, and a small flight of steps and door marked 'extra space'. Up these stairs is a totally separate lounge, in a totally separate style: indeed, for a long time it
was
a separate lounge, but now the two are joined. Because of the obscure entrance, few people make it up here, and there is much more space, and it looks much more chic. What it lacks are the windows, however it does have much more comfortable seating, with a separate servery, and computers at the far end.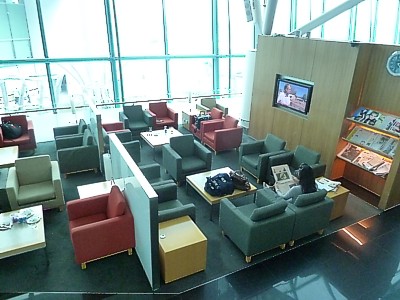 Singapore Skyview Lounge Cathay Pacific Singapore lounge
There are two bars, in the two separate lounges. The main bar in the open part of the lounge has wine on the right hand side, with two pretty nondescript bottles of white in the fridge, and two reds on the counter top. Beers is only marginally better, with cans of Heineken or Tiger. There are also jugs of juice and cans of soft drink, orange and tomato in the fridge. There are six spirits on optics (Black Label, VSOP, Smirnoff, Bacardi, Gordons, Campari) on the left hand side.
The other bar in the inner extension lounge has the same poor selection of booze, but more neatly put together, with optics above the coffee machine, and all the wine and beer in one place. The advantage here is that there are far fewer people fighting for the stuff, so you may get a full bottle. There is no Sparkling Wine or sparkling wine.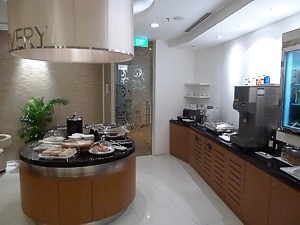 Singapore Skyview Lounge The rear servery
Food is equally disjointed, with a much bigger selection in the main lounge, but higher quality in the extension. In the main lounge there are three hot tourines, with pasta, chicken and rice, plus Cathay's signature dim sum (yum cha) and pork dumplings appear in the steamers before the Cathay flights. In the fridge are sandwiches (tightly wrapped in clingfilm), while over the other side of the counter are pot noodles, with three different flavours: the Asian Mix is really quite good: really it is. There is a totally different selection of food in the extension lounge, with a much more European flavour, including hot pies and potatoes. On the circular stand marked 'Servery' there are also salmon or cheese spread sandwich on focaccia bread or cold grilled vegetables. Hidden in the wine fridge in the extension is the delicacy of the lounge: lots of small dainty and pastries. Few people know they are there, but they are worth hunting out as they are very good.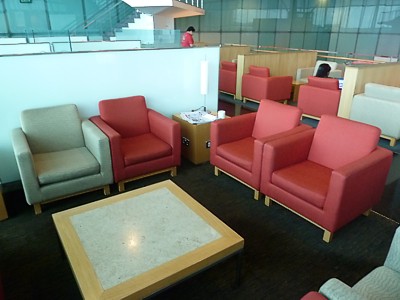 Singapore Skyview Lounge Cathay Pacific Singapore lounge
There are two separate areas with Computers, in both the old and the extension lounges. Outside in the old open air lounge there are eight computers in glass walled booths: these are fairly slow, but there is a printer behind the column. Inside in the new lounge there are six computers on the circular bench. These are much faster, but they are less private and there is no printer.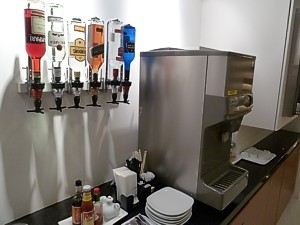 Singapore Skyview Lounge six spirits on optics
There are two newspaper racks, again split between the lounges. The newspapers go pretty quickly from the old rack, but there are usually plenty inside, with the Staights Times, plenty of Chinese newspapers, and only the Euro version of the FT for European papers. There are also lots of magazines, but they tend to have a US bent, with Time and the Economist. Again, if they are missing from the outside rack, there are plenty inside.
There are two good showers in the lounge, which are well stocked with shampoo and soap. They are by the stairs leading to the new extension lounge.
So is it worthwhile stopping by here? Yes, but a qualified yes. The outdoor swimming pool is close by, and indeed there used to be a door direct from the lounge up to the pool. That's now been closed, but if you have to buy access to the lounge, it's a much nicer experience to just buy a few beers and food at the pool, and while you're there have a dip before getting on your plane.
New York - JFK - Cathay Pacific lounges
Terminal 3, up stairs near central rotundra
Open 0500-2000
Access to First & Business class, Marco Polo Club Silver or above, and oneworld Sapphire.
Cathay Pacific borrow the British Airways lounge at New York.
Full details of this lounge are contained in the British Airways New York JFK lounge section.
San Francisco - SFO - Cathay Pacific lounge
Airside, 4th floor
Open 0800-1200 & 1930-2330
Access for First & Business Class, Marco Polo Club Gold or above, and oneworld Emerald & Sapphire
Cathay Pacific San Francisco Lounge is a joint Business and First lounge, and takes all the elements of the Hong Kong Cabin lounge, but compresses them into a small room, including the noodle bar and the famous Solus Chair.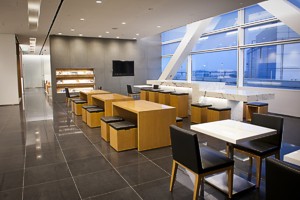 Cathay Pacific San Francisco lounge
The lounge is a welcome change from the JAL and BA lounges that Cathay Pacific had previous used at San Francisco, and certainly a vast improvement on the very poor American Airline's facilities.
The lounge is only 520 square metres - not big, and you can see most of the lounge when you find it, which is the first challenge. As with most of the SFO lounges, the Cathay Pacific lounge is hidden airside on the fourth floor: once past security turn right, take the (tiny) lift, then down a long service corridor. It is right next to the Air France and JAL lounge. At the end is a poster cut out of a Cathay Pacific flight attendant to let you know you've arrived, just as there is in London and Melbourne.
Perhaps to make up for this, reception is very friendly. Incidentally, the reception wall is made of Venetian glass tiles by Fabbian of Italy, backlit to create an abstract impression of bamboo. It works - it really does.
The Cathay Pacific San Francisco lounge is in effect a large square room with one side having huge floor to ceiling windows, slightly obscured by the huge girders at 45 degree angles. There are Carrara white marble and 'China Black' granite on the floor, with many bamboo wood finishes. Straight ahead are 12 (bright) orange armchairs, left of which are a few more, and to the right three of the classic Cathay Pacific Solus chairs, flown in specially for you to sit in, and pretend you are already on the plane with a flip-down tray.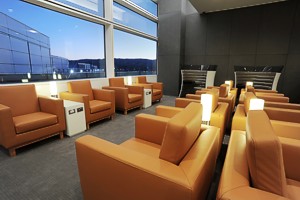 Cathay Pacific San Francisco lounge
Over the room divider is a classic white marble bench (at two levels) overlooking the window, and three wooden cubes, resembling the 'Long Bar' at the pier in Hong Kong. The stools here are not especially comfortable. Behind this is the food counter: in effect a long refectory area. There is also a small TV alcove - where the chairs are at right angles to the TV, which is normally set on CNN. There is also another TV in the main area of the lounge.
Food is good in the San Francisco Cathay Pacific lounge, as you'd expect considering the overnight long-haul ahead over the Pacific. The refectory counter runs along one side of the lounge, with a fridge with salad in bowls (large bowls for the lettuce, small bowls for cucumber & tomatoes), fruit salad and yoghurt. There is also one hot plate, with three plates of pasta, rice and veggies. The best bit is the serve to order noodles, which are brought to you in a bowl, on a small mini-tray. The DanDan noodles in a spicy peanut soup is as delicious as it is filling: the menu for which noodles are available today is on a small plastic stand.
The bar is however pretty minimal. Certainly if you compare it to the over-the-top, every spirit under the sun, in the Virgin Atlantic lounge at San Francisco, it isn't great. There are two bottles of wine in cooler on worktop, with a sparkling, while two reds are next to the few spirits; there are only a few bottles under the shelves on the right. Beer is in the fridge on the extreme right. There is also a pretty nifty coffee machine.
There is a small workzone, with seven computers with lighting fast internet access and a combined printer/photocopier/fax. There is also free wifi in the lounge. Power sockets (110v, US outlet plus 240v UK/HK Style) are located in each side table. At the far end of the lounge there is a newspaper rack, with copies of all the daily Hong Kong and San Francisco newspapers.
There are three shower rooms in the lounge, and these are good, with the same split-pebble walls as in Hong Kong. Towels are at reception: they'll also hand out amenity kits with a razor and toothbrush.
Sydney - SYD - Cathay Pacific lounges (Qantas lounge)
Pier B, Level 4.
Open 0525-0030
Access for First & Business Class, Marco Polo Club Gold or above, and oneworld Emerald & Sapphire
At Sydney Cathay Pacific no longer have their own lounge, and instead borrow lounge facilities from Qantas for the four times a day flight. To find the lounge, once through security take the escalator beside the change counter next to the Oyster bar. Business class is left all the way along the shelf like balcony: the lounge entrance is at the far end, while First Class is on the upper floor, normally at least three lounge dragons carefully vet anyone who tries to come in. Beware that this place can get packed in the afternoon before the early evening flights depart.
Cathay Pacific Sydney First Class lounge - Qantas First
Access to First class, Marco Polo Club Diamond, and oneworld Emerald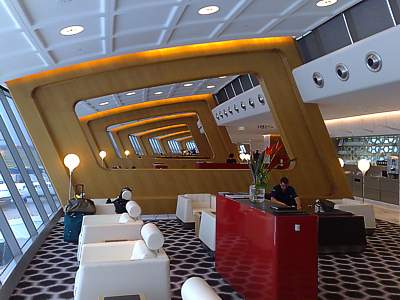 Sydney International First Class lounge

The Sydney International First Class lounge is absolutely superb: it's up with some of the top lounges of the world. It's right on the top floor of the airport, and occupies a new space that juts out over the apron, giving fantastic views.
The lounge itself is divided up by wooden partitions, so it doesn't seem as big as it is. It's a classy place, full of white marble and rather uncomfortable designer chairs. As you come in the dining area is on your left, and the library (and mobile free zone) is on the right.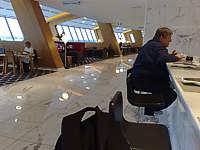 Sydney International First Class lounge

The bar is absolutely top notch. with a fine selection of pretty much every spirit you'd like, and with decent Sparkling Wine. Food is equally good. There are menus (by Neil Perry), and you have to ask the staff for what you'd like. A firm favourite before the long haul to Heathrow is eggs benedit with salmon.
There are state-of-the-art business facilities with 11 Computers, and complimentary wifi internet access. Around the back there are luxurious individual marble-lined shower suites with individual stereo volume and lighting controls.
Further details about the BA First lounge in Sydney are on the Qantas Sydney Lounge page.
Cathay Pacific Sydney Business Class lounge - Qantas Club
Access for First & Business Class, Marco Polo Club Gold or above, and oneworld Emerald & Sapphire
Downstairs from the First Lounge is the very much downmarket International Qantas Business Lounge, which is used as the Cathay Pacific Business Lounge in Sydney. The lounge itself is very long and narrow, and the view is spectacular with amazing views of the runways and even distant views of Sydney. The entrance in the middle of the lounge; right in front of you is the bar area with nibbles and multiple wine coolers. As you go left there is plenty of seating, the food area, another bar, yet more seats, and at the end a family area. This is a quiet area, and where you can find five loungers if you want a sleep. If you walk the other way there is a coffee bar, another bar, and finally computers at the far end.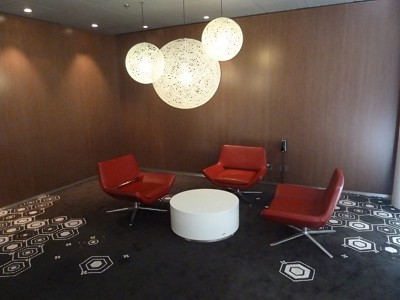 Sydney Business Class lounge Cathay Pacific / Qantas Club
The food offerings include an OK buffet, with several hot options generally including curry and chicken done various different ways: you can eat quite well before you get back on the flight to Heathrow. There is also a very good salad selection many different types of dips and spreads. There is even dessert, with chocolate brownies and cheesecake. Before the main rush of flights leaves the wait staff often come around with nibbles, such as meat balls or canapés, generally at 3.30pm and 6.3pm before the evening Cathay Pacific flight departs. There is one other food delight in the lounge: the new gelato station.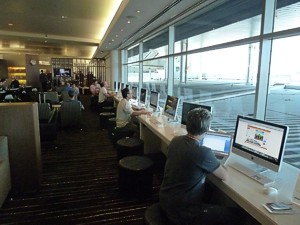 Sydney Business Class lounge Cathay Pacific / Qantas Club
The bar is good, and the long white bar should be your port of call, with three whites in coolers in the table top plus a sparkling, while reds are on the table top. The other two self serve bars have a delight rarely found in airline lounges: cider in draft! It is Magners, along with Cascade and Stella Artois., while in the fridge are bottles of beer (VB & Tooeys) and a soft drink fountain with Coke.
There are very good Business facilities in the Sydney Cathay Pacific Business Class lounge. On the extreme right hand side of the lounge there are ten iMac computers that run both Mac OS and Windows. There is free Wifi in the lounge - select Telstra, and then click in the Qantas Logo. It's very fast. There are power points in the main seating areas, but they can be a bit hard to come by: they are on the window side of the low polished stone walls. There is a magazine rack next to one of the triangles, with the SMH, Australian and Financial Review, but with no Hong Kong or Chinese papers.
Further details about the Cathay Pacific lounge in Sydney are on the Qantas Sydney Lounge page.