Cathay Pacific IFE
All Cathay Pacific aircraft have a seatback TV, and access to Cathay Pacific's inflight entertainment (IFE), which is called StudioCX. Long haul it is generally high quality, and state of the art.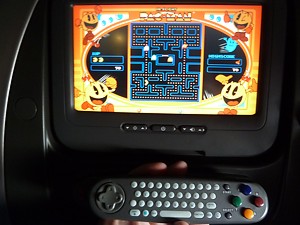 Inflight games Cathay Pacific Pacman
There are however two different types of entertainment systems; the traditional system with films on a loop, and newer systems with AVOD (Audio Video on Demand) where you can stop, start, pause and rewind films on demand.
The traditional system is fitted to all regional aircraft. There is a choice of around 10 video channels, with about 4 films, a comedy channel, documentary channel, and something for the children, plus a couple of Asian movies, and a moving map. The cycle of films starts again when the longest film has finished: as a result you may have a long wait for the next film.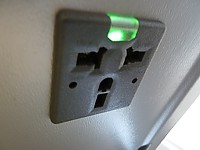 Cathay Pacific power socket
The poor quality of Studio CX is just one reason why, if you are offered a choice of regional or long-haul aircraft on a route, you should always take the long-haul version.
On all long-haul aircraft there is a much better system. Panasonic's eX2 AVOD IFE (Audio Video on Demand Inflight Entertainment System) allows you to stop, start, pause and rewind films on demand.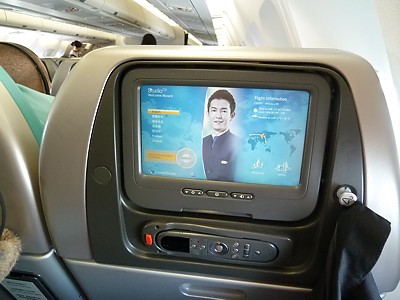 inflight entertainment Cathay Pacific A330 seatback TV
Cathay Pacific inflight movie review
The film selection is pretty good: if you fly from the UK to Australia and back - 4 long long flights, with 8 meals, and pretty much two days in the air - chances are you'll still be going through the films, with about 20 current blockbusters in the selection, plus another 50 or so older films. However it is in the realm of TV series that the system comes into its own, with not just one episode but a complete series available, of such diverse TV series as Yes Minister and Californication. In total there are about 350 TV programmes. Once you've got through that, there is even more music, with 800 CDs: if you prefer you can listen to tracks introduced as a radio programme by personalities such as Caroline Ferraday, or just listen to the music with no introduction.

There are games, and they are better than the usual rubbish put out as IFE by other airlines, with PC style versions of classics such as Pacman. And of course there is the usual moving map.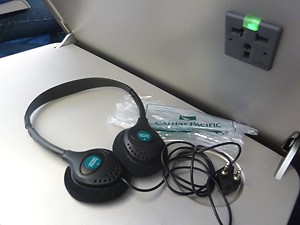 Headphones Cathay Pacific economy class headphones
Headphones in business class are good chunky ones, with double 3.5mm pins, however they are not noise reducing headphones. Cathay Pacific headphones in Economy are quite good too, with a decent stereo separation. The plug is unusual, having the usual triangle for three pins, however with the third pin being just a small plastic stub.
At seat Power Sockets are provided in all classes. Cathay Pacific provide laptop power for recharging copmputers - and most other electical devices such as cameras and iPods - on all aircraft. In economy there is just a usual UK style mains socket, which also fits most other electrical plugs. Of course, Hong Kong (13amp Square pin) plugs will fit, as will Australian and USA plugs, however European round pin plugs are a bit of a wobbly fit. The power is however only 110 volts, which may upset some older 240 volt UK, and 220volt European computers. There is no USB charging - or come to that USB port - in economy, however it is standard in Business and First class.
In Business Class with the new Cirrus seat there is also a unique Cathay Pacific multi-port power, and to get power out of this you need to ask the crew for an adaptor. Just above this, there are also three phono sockets, which take AC and stereo audio, so you can display your own tablet or device on the big screen, although it is very rare to see anyone using this.
Next page: Cathay Pacific inflight experience >>>
All images and content copyright airreview.com