Air Malta Inflight Airline Drinks
Drinks in Business Class are free. Air Malta still have a bar in economy for trans-europe flights, but they will charge you in economy for all wine, beer and spirits. Beer and wine come in at 3 euro (or £2.50p GBP), while Sparkling Wine is 10 euro (or £8.50p GBP).

Oddly, Air Malta seem to have a scarcity of real wine glasses, even in business class. You may get them occasionally, but normally the wine is served in huge great big tumblers. Not that many passengers complain.

All wine in economy and business class comes in 187ml bottles.
Air Malta Business Class Sparkling Wine
Sparkling Wine Jacquart Brut
Great French Sparkling Wine
A really good Sparkling Wine, its pricey on the ground. Enjoy this proper French stuff from Reimes.

12%
Wine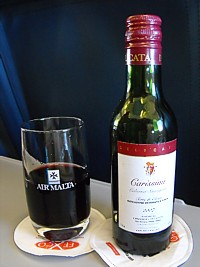 Red - Carissimi Cabernet Sauvignon
Maltese Red, from the Emmanuel winery, Malta
The Emmanuel winery makes this on the Maltese islands, An elegant robust medium bodied red wine made entirely from Cab-Sav. This is a firm fruity red with ample flavours of cassis and red berrys.
The Malta based wine producer have worked to keep two indigenous grape varieties, Gellewza and Girgentina, from extinction, although some of Delicata's wine brands are made from grapes imported from Sicily and mainland Italy.
12.9%
Red - Antinori Donato Vin Santo
From Santo NV, Tuscany, Italy
This is a very distinctive, heavy red wine, with a mahogany colour with a lightly alcoholic nose. The palate does have an edge of sweetness but far from being 'sticky' it has a nutty, sherry-like, almost dry finish. Hints of caramel and coffee permeate the burnt fig flavour. Alas, it is almost too full bodied for me.
It is also notoriously high in alcohol, and the hangovers from this stuff have to be tried to be believed. Frequent Malta passengers know this one as the skull splitter. Curiosuly, you can also get it in the UK in Waitrose, where it is a mere seven quid a bottle
16.5%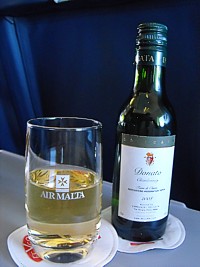 White - Emmanuel Donato Chardonnay
From 'The Winery on the Waterfront'
Also from the Emmanuel Delicata Winemaker in Paola, just south of the Grand Harbour, this is a decent crisp fruity dry white wine with plenty of flavour which has been produced from grapes harvested in Friuli, a North-East region of Italy.
As a typical Chardonnay it is creamy although with slightly less colouring than most, and goes well with the usual Air Malta chicken dishes in Business Class.
13%
Beer
Beer on Air Malta offers some variants you may not have tried before - and may not want to touch again either. However, if you into your beer, it is well worth while trying out the novel Maltese Cisk beer, and also the Pale Ale that is much drunk on the island.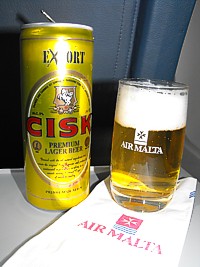 Cisk Beer
A Maltese speciality beer
As soon as you spot the thin yellow cans on the trolley, you know you're on a Cisk Run. Known by Frequent Flyers as Cist, it really isn't that bad: indeed Cisk Premium Lager Beer, also known as Cisk Export, has a rich tradition.

The recipe has not been changed since 1928, when it was called Cisk Pilsner, and it continues to be made by Simonds Farsons Cisk PLC on the Maltese Islands.

It is a bottom-fermented, golden coloured, lager with a delightful creamy taste. It is very rich in hops, but it has a mild bitterness, rather like Victoria Bitter (or VB) that some passengers dislike.
4.2%.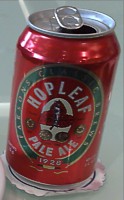 Hopleaf Pale Ale
British Pale Ale, brewed in Malta
This is the beer that almost built and Empire: but also kept the Maltese going in the dark days of 1941.

Brewed in St Julian's, Malta, Hopleaf is one of those perfect holiday beers: best drunk cold, it has a crisp, hoppy bite.
3.8%.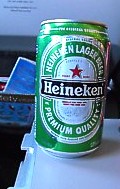 Heineken
Dutch Beer
The famous Dutch export Heineken, made of purified water, malted barley, hops, and yeast. Its the usual tame stuff you get on the ground, in a 275ml tin, with the Asiana version served on Frankfurt flights brewed in the Heineken brewery in Zoeterwoude in the Netherlands.
5%.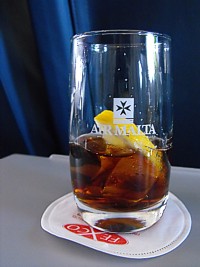 Scotch Whisky Chivas Regal 18 years
This is really good stuff. Produced by Chivas Brothers, at the Strathisla Distillery at Keith, in Speyside, it is blended from whiskies matured for at least 18 years.

There are Chocolate and orange notes, some citrus and spice on the nose and a full, fruity, citrusy and spicy palate, with sherry notes to finish.
80%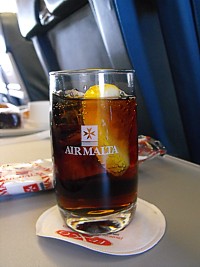 Glenfiddich Malt Whisky
Maybe not as good as the Chivas, but it's still a pretty good nip. A dram of the Glenfiddich is available on all flights.

One slight warning: if you ask for a small glass of this stuff, you'll end up with a vast tumbler of it, full to the brim. This will either make the flight go very fast indeed, or put you straight to sleep, depending on your preference.
40%.