LAN Airlines inflight drinks
Wine, beer and spirits, are free both in long and short haul. All wine in economy short haul comes in 187ml bottles.

Long haul LAN must have one of the best wine lists of an South American airline (which it must be said is a pretty small base, but it's good to see LAN leading the pack). In business class there are generally 2 reds and 2 whites on offer, from very good Chilean labels.
Business Class Sparkling Wine
Sparkling Wine Piper-Heidsieck Brut
Great Sparkling Wine
A really good Sparkling Wine, its pricey on the ground... so you might as well get the benefits of paying a fortune for your ticket, and enjoy this proper French stuff from Reimes.

The Piper-Heidsieck is only available long-haul.

12%
White Wine
Chiloe Island Chardonay 2009
From Chiloe Island, Chile
Very hard to get hold of on the ground, LAN offer this wine at 35,000 feet. Pretty sweet, with the aroma of apricots and peaches, but still very good.
11.5%
Beer
Beer in Chile is normally a rather insipid lager. The country does have a tradition of brewing the corn beer, Chicha, which used to be available in First Class. Alas LAN has scrapped that class, and hence the beer is no longer available on board.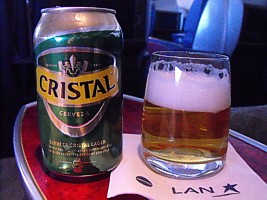 Cristal Beer
Chilean beer
Wow, this is unusual - the real Chilean Cristal beer, in a 275ml tin, however some flights have the variant made in Panama.

Either way rouond, it's pleasant to have the option, although the beer is really rather tame, and is similar to a European Pilsner.
4%.
Quilmes Beer
Patagonia beer
This is even rarer, the Quilmes beer comes in a blue 275ml tin, and LAN is one of the few airlines to offer it.
4%.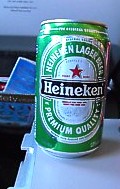 Heineken
Dutch Beer
The famous Dutch export Heineken, made of purified water, malted barley, hops, and yeast. Its the usual tame stuff you get on the ground, in a 275ml tin, with the Asiana version served on Frankfurt flights brewed in the Heineken brewery in Zoeterwoude in the Netherlands.
5%.