Bangkok Airways Inflight Airline Food
In today's low cost airline world, it can come as a pleasant surprise to find that food on Bangkok Airways is not only free, but plentyful and good, even on very short domestic flights.

Plastic knives & forks are used on all flights.
Bangkok Airways Economy Class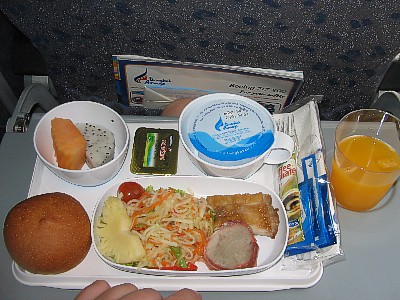 Pork neck coleslaw
A cold slice of Pork neck. A cold piece of fried chichken. Coleslaw. Pineapple. Tomato.

A cupcake. Two melons. Butter.

Ooo errm right... where to start with this lot? It seems as if the kitchen just dumped all the food it had in one bowl and didn't bother checking if any of it made sense together. I mean, I can kind of see the salad thing going on - but why the pineapple? And the pork?

As for the cupcake and melon idea - that's just plain weird.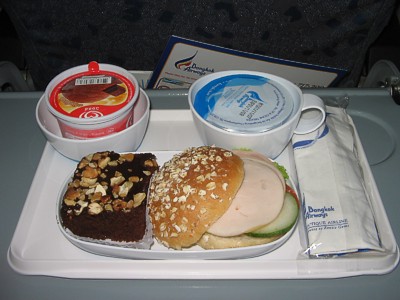 Ham roll
A roll with poppy seeds, containing one slice of processed meat, two cucumbers, and a tomato.

A Chocolate cake. Icecream.

Wow, this is really good - unexpectedly so! Admitedly, the meat tastes like cheap processed ham, which it is, but the roll is very pleasant.

Add in the cheesecake and the ice cream, and it all goes together very well.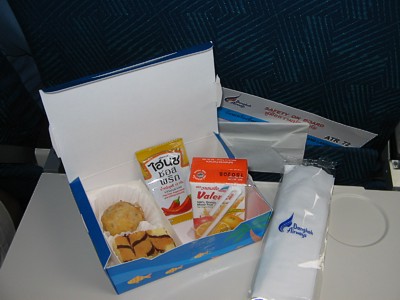 Chili meatball
One fried goat meatball. One large packet of chili sauce.

One slice of iced sponge cake. Orange juice.

Yuck. Who in their right mind serves up a tiny fried goat meatball - with a huge packet of chili sauce. Madness.

Nice cake though.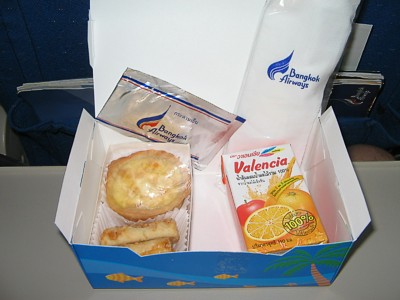 Apple tart
Small apple tart. Small fairy cake.

Orange juice.

Bangkok airways is now seriously cutting back - this is the delight mid afternoon on a two hour long flight: there really isn't much quantity, but it makes up for it in quality.