NEWS: Aer Lingus has bailed out of the oneworld Alliance, as a result of it becoming a no-frills carrier. Aer Lingus' strategy has changed fundamentally since it joined the alliance six years ago and is no longer convergent with oneworld's full service strategy.
Aer Lingus is the national airline of Ireland. Quality on Aerlingus has plunged of late, and around Europe it is little more than one of the
smaller low cost carrier
. All onboard frills and business class have been axed. Long haul it is a little better, and Air Fungus - as many have now christened the airline - can still just about hold its own transatlantic.
Based in Dublin, it operates over 30 aircraft serving Europe, Asia and the United States. The airline is owned by the Irish government, under whose guide it became a moribund carrier that was just a few steps from total bancrupcy. In 2001, the airline even stopped all services for a number of weeks while it tried to work out financial deals allowing it to stay aloft. A number of radical cost cutting measures have seen the airline axe anything which doesn't make a profit, and a large number of staff. It adopted the slogan Low Fares, Way Better. It then axed prety much all on board service. Plans are now being made for the privatisation of the company.
Aer Lingus has lost its membership of the Oneworld alliance, which it uses to mop up some transatlantic feeder traffic, because it doesn't provide services that many passengers on codeshares would expect. Effectively the airline runs two services - long haul, ferrying American tourists to Dublin, and shorthaul, taking residents of Eire to bucket and spade destinations.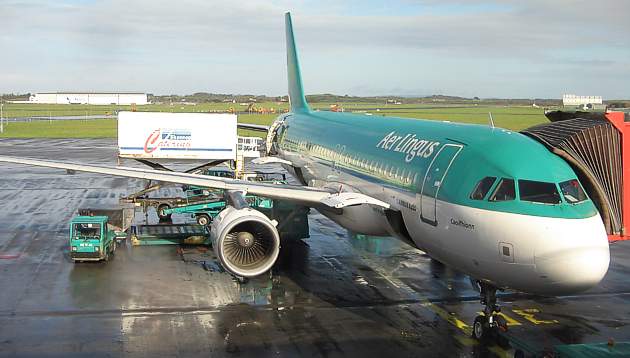 Shannon Aer Lingus Airbus A320 on the stand before takeoff to LHR

AerLingus Classes, Seats and Fleet
All shorthaul flights are one class only, no-frills, buy on board. Long haul there is still some limited service, but forget having a free bar unless you are in business class. Seats & entertainment are definately early 1990s style.
The Aer Lingus fleet is now solely populated by Airbus planes, and indeed almost shows a catalogue of how the manufacturer would like airlines to use it's planes, with lots of short haul routes having the 320 type, and 330s on long-haul transatlantic.
Aer Lingus are believed to be in discussions with Airbus and Boeing to replace their older Airbus A330 fleet with either the Airbus A350 or the Boeing 777 and the as yet to fly Boeing 787.

Shannon Aer Lingus Airbus A330 refueling before a transatlantic flight

Aerlingus Airbus A330-200/A330-300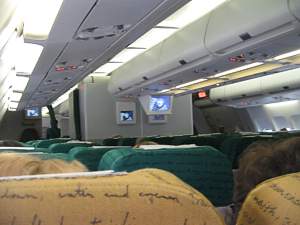 Aer Lingus Airbus A330 The economy cabin is not a pretty sight

The airline has 7 A330s, of which 3 Airbus are A330-200 and 4 are Airbus A330-300. Two further A320-200 options have been converted to orders, due later this year. Not particularly tidy, they all feature décor which will make your brain ache. Economy seats have material which is decorated in eye popping material with writing that coverers sayings about Ireland. All this on either an emerald green or beige background. The Aer Lingus cabin will never win any awards either for it's colour, style, or features.
The 300s have 36 Premier with 279 Economy and are used to New York , Newark, Boston and Chicago, while the 200s have 24 Premier with 251 Economy, and are used to Los Angeles, New York, Newark, Boston and Chicago.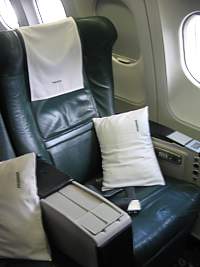 Premier Seat on an Aer Lingus Airbus A330

Business Class or Premier is of course up the front - where it should be. All of Aer Lingus' A330s are two class planes, but the front cabin varies - rows 1 to 4 (or 1 to 6 on the 300s) are business class. Business class seats feature Airbus' typical cradle seat, from the 1990s, featuring a 50" pitch. There aren't even adjustable headrests on these seats. It's OK, but it only reclines half way, making a decent night flight's sleep very difficult. All the seats are also in leather, making a night flight a sticky, squeeky affair. Seats are in a 2+2+2 format.
Economy is very much that - seats come in a 2+4+2 layout. It's got a 31" pitch, and not the slightest sign of any frills. There is no at seat power. Row 31 is an exit, as is row 12. At the front of the economy cabin a separate, much smaller cabin with 3 more rows (rows 9 to 11), before the curtain and business. Many seasoned travellers prefer this smaller cabin.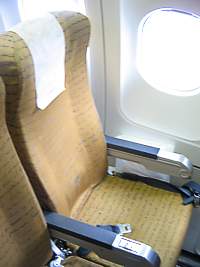 Economy Seat on an Aer Lingus Airbus A330

There is marginally less engine noise, it is much more cosy and will have a lot less passenger traffic going through it, and a proportion more attention from the cabin crew. Row 9 in particular gets a lot more legroom, thanks to the divider with business.
Aerlingus Airbus A320/A321
There are 21 Airbus A320-200 in the fleet. There are 6 Airbus A321-200. All are "one class planes" - the dividing curtain between business and economy having been removed when this class was scrapped short-haul.

Dusseldorf Aer Lingus Airbus A320 pushing back

Economy seats are in the classic 3+3 pattern. In the A321 row 10 is the Emergency exit, with lots of legroom - beware of row 9 though, with has an odd seat in the middle of the row, with no view of the window. On the righthand side of the aircraft (D,E, & F)you sit opposite a member of the cabin crew. On the A320 rows 12 and 13 get the emergency exit, with more legroom.
AerLingus onboard inflight experience
Don't expect too much - or indeed anything - from traveling on Aer Lingus. It is strictly a
way to get there
and not a fun thing to do. Reviews and opinions are generally pretty poor when it comes to AerLingus, if only because of the Ryanair-isation of the airline.
All short haul has moved into the realm of a no-frills carrier, and as such, you get nothing other a trolley that at crusing altitude starts at the front, and rolls back trying to sell you stuff.
For long haul in economy you will get a very basic meal service, and paid for drinks. On the long haul services that stop at Shannon, there is nothing at all - not even a free glass of water - from Dublin.
Long Haul in Business things are better, however the crew are noticably in-attentive, and hang around in the galley. There are usually pre-flight drinks after you board, however there is no Sparkling Wine on early morning depatures. There is then a newspaper trolley. The crew will come round, hand out cold towels, and take your meal requests (but there are normally no menus). The food is then pretty much unceremonially dumped in front of you, and you are left to get on with it.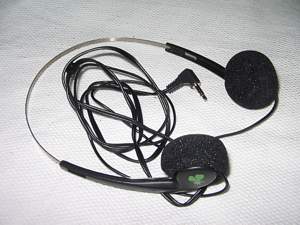 Aer Lingus economy headphones

AerLingus Inflight Entertainment
Whether you get a seatback TV on an Aerlingus long-haul flight depends on the model of plane you are on. On Intercontinenal flights using A330 aircraft, the entertainment system is a lottery - you could either get a system that goes back to the 60s, with a projection screen at the front of the aircraft, or you could get lucky and get a fairly modern seatback multichannel TV, even in economy.
On trans-Europe flights on the A320 aircraft, there is no entertainment other than looking out of the window.
If you end up in an older A330, or one that hasn't been retrofitted with seatback TVs, you will get a large projection screen at the front of the cabin, and smaller CRT screens at intervals along the cabin ceiling. There are armrest controls, which mean you can change the radio channel, or listen to the TV, but that's it.
With the A330 one-screen aircraft, called "Mainstream TV", there will be two films. The first is shown shortly after takeoff, and the second about ten minutes afterwards. There are also 8 audio channels.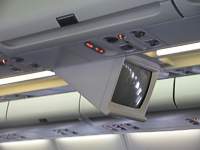 A330 overhead screens

A few A330s (currently two, however Aer Lingus are retrofitting some aircraft) have seatback TVs in economy and business class, with 9 channels - There are 5 film channels, 2 channels with short TV programmes and a kids channel. You can also play games on the seatback TVs. These are very basic, with games like Hangman, Backgammon, and Black Jack.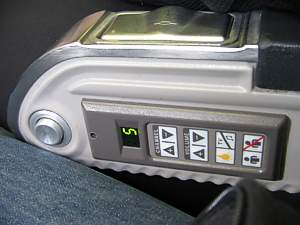 A330 entertainment control in the armrest

On both types of aircraft the headphones are very basic, with Airbuses' normal overhead band type, and a single 3.5mm jack plug. Radio and TV channels are in mono.
AerLingus Inflight Magazine - Cara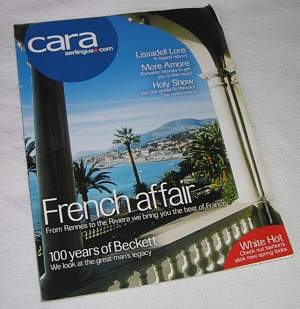 Cara the inflight magazine

This is pretty good. It comes out every 2 months or so. There are the usual travel articles to destinations Aer Lingus serves. There is also a nice
"Departures"
section with events happening on Aer Lingus routes, and a good section on cultural events at destinations, divided into Eat & Drink, Sleep, Style, and In Review. This section was revamped quite recently, and it's one of the few parts of Aer Lingus that's pretty modern and up to date.
The movie guide at the back - If you have an A330 with overhead video screens, look at the Mainstream TV screen selection. Otherwise the multi channel TV selection is in the shorter listings at the bottom of the page.
The last page of the magazine has the Sky Cafe menu.
Read Cara, the inflight magazine, online.
Aerlingus Routes
NEWS: Dublin to Salzburg have started. Aer Lingus has also announced their first scheduled service to Asia: to Dubai in the United Arab Emirates.
Dublin is very much the Hub of operations. Dublin to London's Heathrow airport remains a core route, however to maintain compatibility with the other short haul routes it too has been turned into a no-frills route. Oddly, this leaves bmi as the only 2 class carrier between the Dublin and LHR (BA fly to LGW) - a rather pointed difference, as bmi has become a no-frills carrier on all other routes.
There are a few flights which fly out of Cork - although there are no links from here to Dublin. The only Domestic route is from Dublin to Shannon, which is actually populated by transatlantic planes stopping off at Shannon before going over the pond. This gives large areas of scarcely populated areas of rural Island direct access to transatlantic services. Alas it adds an extra hour, and lots of hassle, to these flights.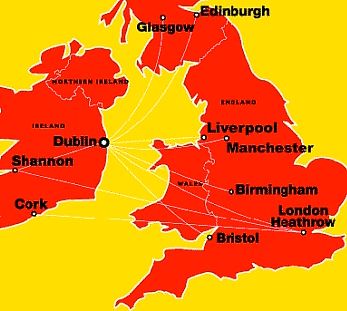 Aer Lingus Eire / UK routes

From London LHR there are 12 flights a day to Dublin, at 06:50, 07:50, 09:05, 10:05, 11:05, 12:35, 14:10, 15:15, 16:20, 17:45, 18:45, 19:45, and 20:45, all on A321s. Shannon has 3 flights a day at 10:10, 15:10 and 19:45, while Cork has 4 daily flights at 09:55, 14:05, 18:10 and 22:10.
Manchester has 5 flights a day to Dublin at 08:00, 11:00, 13:25, 18:40 & 21:30, using A320s. Birmingham has 4 flights daily at 08:15, 10:55, 14:10 & 21:40, again using A320s, along with Tue Thu Sat at 15:10 to Cork. Glasgow has 3 flights a day at 08:00, 14:15 and 21:40. Edinburgh has a sole 14:40 flight (A320). Liverpool equally has only one flight at 16:05, as does Bristol 15:25, with a rarely full A320. Jersey has flights on a Tue, Thu, & Sat in the summer only.
Airline schedules change regularly.
This information is intended as a guide, but for up to the minute timetables, please consult AerLingus.
Transatlantic, three flights stop off at Shannon on their way over the pond. The 0815, the 1130, and the 1400 (all A330s) stop off there for 45 minutes to pick up passengers. You can buy tickets for this short hop, although only in Economy. From Dublin the main route is to New York (JFK) having A330s at 10:30, 11:30, 13:45 and 16:00. Boston has a direct service at 11:30, or via Shannon at 15:15. Chicago (OHare) has a sole daily 13:30 service. Los Angeles has flights on a Wednesday, Friday & Sunday at 11:50 (arrives 14:50 on a A330-200). Los Angeles remains Aer Lingus' longest route at 5181 miles. San Francisco is linked via an AA codeshare via Chicago (off the EI arriving at 1550, leaving at 1930), as is Seattle (off the 1550, leaving on AA at 1723). Washington has a connection on AA via the JFK flights.
Aer Lingus frequent flyer scheme - the Gold Circle
Aer Lingus Frequent Flyer scheme is called the Gold Circle. It is
no longer
part of the
OneWorld
Alliance.
It has three tier levels; Gold is the base level, followed by Prestige (silver), and Elite (Gold).
Joining is easy; it's possible to do it online.
UK Economy 100
Europe Economy 150
USA Prem 1000 Econ 300.
Dubai Prem 1000 Econ 300.
Gold Circle Points for a one-way
Earning Miles
Gold Circle Points are awarded for each flight on Aer Lingus. There are 100 points for a flight within the UK, 150 for a trans-European per the table below when travelling on any valid Aer Lingus scheduled flight. You can also earn Points with some non-air partners.
Gold Circle Club - Base level
This is the very basic level that allows you tot up the miles, but not much else.
Gold Circle Elite
Gold Circle Elite can be achieved at
25,000
paid miles or 30 paid segments.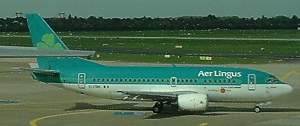 Dusseldorf Aer Lingus Boeing 737

Gold Circle Elite cardholders get access to the Aer Lingus Gold Circle Club lounges, and you can also check in at Business Class Desks.
Aer Lingus also advise other oneworld member airlines of your Gold Circle Club seating preference so that each time you travel with a fellow oneworld member airline your preferred choice of seating is requested.
Gold Circle Prestige
Gold Circle Prestige cardholders get access to the Aer Lingus Gold Circle Club lounges (with a guest).
Prestige members can check in at Business Class Desks. Irrespective of your class of travel when travelling on a oneworld flight, Prestige members will be invited to board first.
Prestige members also receive priority standby status.
Aer Lingus Business Class Lounges - the Gold Circle Club
Aer Lingus now operate only one type of lounge: the Gold Circle Club. The Premier Lounges have been shut down.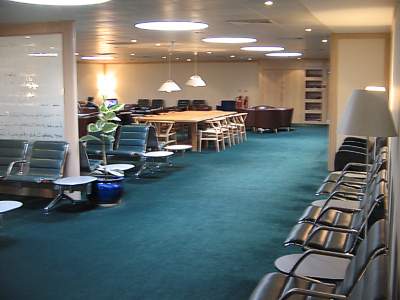 London LHR Aer Lingus Gold Circle Lounge

Aer Lingus Gold Circle Club Lounge London Heathrow Lounges
Terminal 1, Domestic Pier 4A, Beside Gate 86
Open daily 0530-2200
Despite only operating a no-frills service to Dublin from LHR, AerLingus very suprisingly still have a dedicated lounge at the airport - in the domestic arm (flights from the UK to Ireland count as domestic flights, for complex political reasons). The Premier part of the lounge has recently been shut down. The lounge is pretty dreadful - compared with the great BA lounge, which you can access through OneWorld access procedures. However, the BA lounge is in the main part of the terminal - a good 20 minutes walk from the Aer Lingus lounge, which is right by the gate. Note that once you are at the Aer Lingus lounge, you then can't get back to the BA lounge.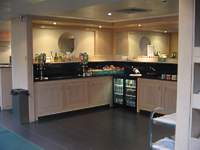 London LHR Aer Lingus Gold Circle Lounge Bar

The main lounge has fairly stiff 1960s style chrome and plastic armchairs, and some much stiffer airport lounge style chairs, again in black leather and chrome. The three circular chairs around the glass table are a lot more comfortable. There is also a long wooden dining table, with even (if that's possible!) stiffer chairs. This all compares with the stiff lounge dragons, who are some of the snottiest at Heathrow.
Below the video screen (all of one) giving departure information is the Newspaper rack - with one copy only of each of some of the main UK papers (the FT, the Times, and the Irish Independent), all of which have stickers saying that they can't be removed from the lounge. At this point you notice that pretty much everything in the lounge has a sticker "for lounge use only". Even the coffee mugs. There is a business centre with five desks right by the rear fire door and smoking lounge. Alas, there are no computers. Loos are outside the lounge. There is one TV, in the main body of the lounge, surrounded by the worst chairs.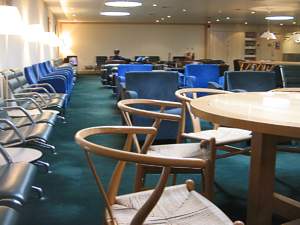 London LHR Aer Lingus Gold Circle Lounge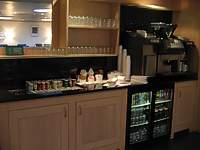 London LHR Aer Lingus Gold Circle Lounge Bar

Food
is pretty bad - there are 3 types of cake slices (in plastic), 1 type of biscuits, and packets of fruit and nut mix. The
Bar
by contrast is limited, but actually ok. There are 2 racks of 4 optics, with the usual vodka and whiskey. There is a deep fridge well in the worktop, in which there are 2 types of white wine (A Chardonnay and a Sav Blanc), and 1 red on the worktop beside it. There are racks of min cans of coke, tonic, etc, on the worktop, but better is the fridge, which has the same cans, chilled. In the fridge are the obligatory cans of Guinness, with logoed pint glasses on the shelf above.
There are no windows outside this very soulless lounge, and all in all it's a waste of time; it's much better to kick your heels in the BA lounge until your flight is called.
Aer Lingus Dublin business class Gold Circle Lounge
Departure Pier B, at far end, left via lift before the bar, then to the end of the rotunda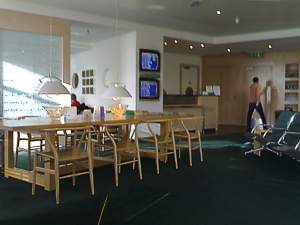 Dublin Aer Lingus Gold Circle Lounge

Well done if you ever find this lounge - there are no signs anywhere in the airport to its location. It is cunningly hidden away, and even the airport staff seem mystified as to it's location. Which is odd, as it's Aer Lingus' rather shameful flagship lounge for it's transatlantic operations. Head down pier B, through the duty free shop, then when you get to a fake Irish pub on your left, double back on yourself, and summon the lift. Press the button for the "Corporate Lounges". Here, walk through what seems like an abandoned hotel lobby, left at the fork for the Eagle Lounge (now abandoned), and walk around the circle until you get to the sign on the blank door saying "Premier Lounge - Closed". Go through the door. This is where the Gold Circle lounge is.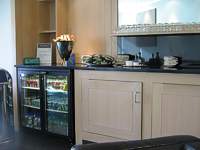 Dublin Aer Lingus Gold Circle Lounge Bar

There are three main parts to the lounge. There is the main area where you enter, which has a long wooden dining table, overlooked by the lounge dragons. There is a bar here, and the food counter. To the left is a small area with a TV and a Hertz rent a car computer. To the right is a much bigger area, with another bar (closed and unstaffed). Throughout the entire lounge there are great views over the airport apron.
Food isn't great. There are cake slices (in plastic) and packets of fruit and nut mix. However in a bowl on the worktop there are lots of chocolate bars which are fantastic, along with Cheese and biscuits, and two flavours of Pretzels.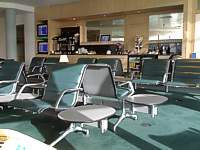 Dublin Aer Lingus Gold Circle Lounge Bar

The
Bar
is however very good. having racks of optics. There is a deep fridge well in the worktop, in which there are 2 types of white wine (Merlot 2003 and Chardonnay 2005 from the Fleur du Cap South African collection), and 1 red on the worktop beside it.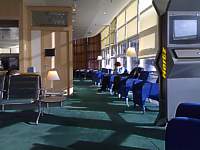 Dublin Aer Lingus Gold Circle Lounge

There are racks of mini cans of coke, tonic, etc, on the worktop, but better is the fridge, which has the same cans, chilled. In the fridge are the obligatory cans of Guinness, with logoed pint glasses on the shelf above.
Aer Lingus Shannon Lounge
After Departure lounge, past the bar, on the left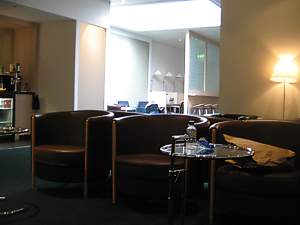 Shannon Aer Lingus Gold Circle Lounge

This is a pretty grim lounge, but if you are flying on Fungus to the US, one that you'll probably spend most time at, all thanks to US flights stopping off at Shannon for pre-flight clearance of your passport. The louonge can be found airside, stuck after the fake (but, of course, real) Irish pub in the middle of the consourse. There are no windows, but a couple of skylights do allow in some daylight. Often, there are no lounge dragons on guard, so access is available for all, once you go through the rather blank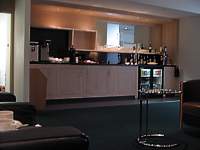 Shannon Aer Lingus Lounge Bar

door. There is one central room, with a small bar, then at the far end a sort of sit down bar with some workstations (but no computers).
Food is non existant. There are packets of nut mix, but that's about it. The Bar equally limited. There are two optics, one with vodka, and the other with a whisky and a gin. One lone bottle of red is on the worktop, and one bottle of white is in the fridge, along with mini cans of coke, and tonic. In the fridge are the obligatory cans of Guinness, and large cans of Bud & Heiniken.
AerLingus History
The name, Aer Lingus is an anglicisation of the Irish form Aer Loingeas which means Air Fleet. When founded in 1936 the airline opened its first service between Dublin and Bristol using a six-seater De Havilland biplane. In 1940 a new airport was completed in the Dublin suburb of Collinstown and Aer Lingus moved their operations to the new aviation centre. Apart from a new DC-3 service to Liverpool and an internal service to Shannon the airline's services were curtailed during World War II.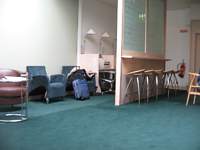 Shannon Aer Lingus Lounge Workstations

In 1945 services were resumed with flights to London. Aer Lingus had exclusive traffic rights in exchange for a 40% holding by BOAC & BEA. In the 1950s Aer Lingus started new routes to Brussels, Amsterdam & Rome. In 1960 it started flying to New York with 707s, and in 1966 the route from Shannon to Montreal and onward to Chicago began. By 1968 it began flights from Belfast to New York, but these were soon suspended due to the beginning of the Troubles.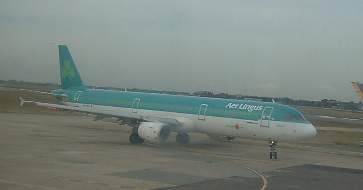 London LHR Aer Lingus A321

The airline's worst disaster occurred in 1968 when a Vickers Viscount aircraft en route from Cork to London crashed near Tuskar Rock in the waters off the south east coast of Ireland. All 57 passengers and four crew perished. The crash is generally known as the Tuskar Rock Air Disaster. The cause of the crash is still unknown, with some highly debateable reports suggesting that British missile tests were to blame.
In 1970 Aer Lingus took delivery of three Boeing 747s, however one was promply leased out when the airline worked out it was not profitable for the company to fly 747s across the Atlantic on a frequent basis. 1974 saw a new livery of two different colours of blue and one green and the word International disappeared from the fuselage titles on Aer Lingus planes.
In 1994 Aer Lingus started direct services between Dublin and the United States using the new Airbus A330. This led to the phasing out of the Boeing 747. The late 1990s saw Aer Lingus return to Belfast with a service to New York via Shannon. Newark was also added briefly added before these flights were suspended. In 2001 Aer Lingus' business was severely reduced due to attacks on the US. The airline has now bounced back, largelythrough a new strategy involving lowering the airline's cost base, updating the fleet with modern Airbus equipment and developing new routes to mainland European destinations. It is now positioning it as direct rival to no-frills airlines like Ryanair, both short haul and for intercontinental flights. There are no meals, perks, or even business class on anything other than long haul flights, and the trademark aquamarine uniforms are to be dropped in favour of casual poloneck shirts.
AerLingus Hints & Tips
Operational Upgrades
One of the common questions is "How do I get an upgrade on AerLingus to Business or Club class?". Alas, getting upgraded to business class on AerLingus really isn't that easy. The airline has the Western, rather than American, model for upgrades longhaul. Which is to say you'll only get an upgrade if your paid for class is full, and then upgrades are processed accordingly to a pecking order of elite frequent flyer status. You are very unlikely to ever get an upgrade unless you are at least a Gold Circle Prestige member.
To start with, make sure you are a frequent flyer, and you do fly frequently: after all, if AerLingus are going to upgrade anyone, they will upgrade those passengers who fly with them pretty regularly, and hence will enjoy the upgrade enough to put more business AerLingus's way. Then if the flight is full in economy, and someone needs to be moved up, the check in staff will look at Gold Circle Prestige members. Another thing that AerLingus look at is how much you paid for your ticket: it's much more likely to happen with a full fare ticket (although occasionally you can get lucky with a discounted economy ticket). On AerLingus the airline has heard - probably hundreds of times a day - requests for an upgrade: the general consensus seems to be that if you ask for an upgrade, you're more likely to get it, although opinions differ on an upgrade strategy for AerLingus.
As always, my advice on dressing properly in the pages on how to get an upgrade applies.
AerLingus website
The Aer Lingus website is pretty basic, but it does the job of letting you book a flight, and tells you some limitted information on the company.
Main website: www.aerlingus.com
Seatmaps
Cara, the inflight magazine


Note that all reviews and opinions on AerLingus (EI) food, service, seats, planes, upgrades, lounges, the Gold Circle Club, and the Frequent Flyer scheme is soley at my judgement. No legal liability is accepted if you take my advice.